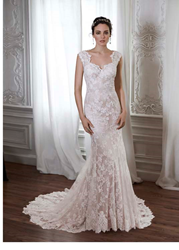 At the exclusive event, being held on January 10 and 11, brides-to-be will be the first to view some 30 spectacular bridal gowns from Maggie Sottero's new collection
Saffron Walden, Essex (PRWEB UK) 11 December 2014
Maggie Sottero is recognised as one of the most sought-after bridal gown designers in the world and has numerous accolades and bridal industry awards for her redefined couture bridal fashion.
At the exclusive event, being held on January 10 and 11, brides-to-be will be the first to view some 30 spectacular bridal gowns from Maggie Sottero's new collection. The entire collection will not be available in any other bridal store locally and of the dresses each shop may choose to stock, these won't be available for at least a month after the Fleur de Lys Bridal event.
Only available during the special weekend event, Fleur de Lys Bridal will also be offering brides a 15% discount on any dress purchased from the Maggie Sottero collection. They will also extend this generous discount to a variety of other Maggie Sottero bestselling bridal gowns currently held in-store.
Fleur de Lys Bridal, based in the picturesque town of Saffron Walden, is an award-winning bridal boutique. This wedding dress and accessories retailer has been an award winner and finalist in the Essex Wedding Awards three years running, and a finalist in the Mid Essex Business awards 2014. The bridal boutique is also RBA accredited.
Brides-to-be looking not just for a spectacular wedding gown for their 2015 wedding but a VIP services from a team of professional, dedicated and friendly staff, will receive a bridal shopping experience they won't forget.
For more information visit Fleur de Lys Bridal at 4-5 Rose and Crown Walk, Market Place, Saffron Walden, http://www.fleurdelysbridal.co.uk or call 01799 526982 to book your VIP appointment.