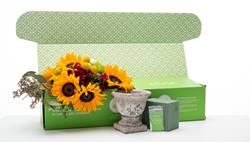 Fleurkits allow you to create a beautiful floral arrangement for your personal enjoyment or to be given to a loved one who would appreciate the process of designing an arrangement.
Los Angeles, CA (PRWEB) June 30, 2015
Famed floral designer Amy Marella, who has created designs for LA's top celebrities for over 16 years at The Hidden Garden Floral Studio and recently opened a design-it-yourself flower bar, Fleurish, now offers flower lovers from across the country the opportunity to be their own 'fleurist' in the comfort of their own home. Marella is sharing her secrets to celebrity-worthy floral arrangements with her newest endeavor, Fleurkits - the first DIY fresh floral design kits ever available for overnight delivery nationwide.
Since 1999, Marella's The Hidden Garden has been the premier floral design house creating stunning arrangements found in many of Los Angeles' most beautiful hotels, such as the Hotel Bel Air and Montage Beverly Hills, as well as personalized arrangements for A-list celebrity clientele including Tom Cruise, Gwen Stefani and Jessica Simpson. In awe of her designs, many clients would often ask for tips on making their own arrangements, so in 2014, Marella and co-founder Allyson Arons opened Fleurish, the first and only fully dedicated design-it-yourself floral design boutique in Southern California 'where you are the fleurist.' At Fleurish, guests can create their own arrangements, take a class or celebrate special occasions like a birthday party or bridal shower.
Now with the shippable Fleurkits, Marella is taking the DIY movement one step further with a whole new way to send flowers. Fleurish's fresh flower kits are available to everyone, anywhere in the country. With easy to follow online step-by-step instructions, Fleurkits allow you to create a beautiful floral arrangement for personal enjoyment or to be given to a loved one who would appreciate the process of designing an arrangement. Wedding Collection Fleurkits are also now available, for an even more sentimental experience of creating your own wedding florals.
"I am so excited that our Fleurkits are now available nationwide. There is something very special about creating your own floral masterpiece or giving someone else the gift of learning how to make their own arrangement," said Marella. "And how memorable is it to be able to say you made your own wedding bouquet! I'm thrilled brides and their loved ones will have the opportunity to have that special experience together."
Fleurkits are currently available in four summer-inspired styles and two wedding collections. Each season, new collections will be released.
The summer Fleurkit collection includes:

Raspberry Sunrise ($99.95) - provides a splash of color with an array of bold pink tones of Tulips, Aster Mums and Floyd Roses.
Berried Delight ($74.95) - brings the feel of summer indoors with Sunflowers, Spray Roses, Billy Balls and Eucalyptus.
Bundled Dreams ($84.95) - combines soft tones of light blue Hydrangea, white Roses Lisianthus, Veronica and Camelia leaf for a sophisticated floral creation.
Floral Crown ($69.95) - choose between two stunning styles - Classic Romance or Vibrant Love, both created with antiqued Hydrangea, Sweet Heart Spray Roses, seeded Eucalyptus Berries and Ivy, trimmed with an ivory satin ribbon bow
The summer Wedding Collection Fleurkits include:

Classic Romance (from $14.95 to $124.95) - an elegant collection featuring Calla Lilies, Lisanthus, Ecuadorian Roses and fluffy Hydrangea in luxurious and romantic white, ivory and champagne hues.
Vibrant Love (from $14.95 to $119.95) - a vibrant collection featuring Ecuadorian Roses, Sweetheart Roses, Lisianthus and Hydrangea in rich, brilliant jewel tones.
Wedding Collection Fleurkits can be customized by selecting any or all elements of the collection including Bridal Bouquet, Bridesmaid Bouquet, Boutonniere, Floral Crown or Centerpiece. Trial Kits containing a Bridal Bouquet and Boutonniere are available for practice ahead of time.
Each Fleurkit includes accessories to complete the arrangement, as well as a simple online step-by-step tutorial for arranging the flowers. Flower arranging tools, including floral shears, rose strippers and a floral knife can also be added on to any order to enhance the art of arranging to a professional 'fleurist' level.
All Fleurkits are shipped priority overnight with guaranteed 11AM delivery next day to ensure the freshest flowers. Prices listed do not include shipping. Shipping rates vary according to zip code. Wedding Collection Fleurkits ship free with orders over $250. For customers in the Los Angeles area, Fleurkits are also available at the Fleurish flagship floral bar in Brentwood for curbside or in store pick up and local delivery.
About Fleurish
Fleurish is the first sophisticated, unique design-it-yourself flower bar created by celebrity floral designer Amy Marella of LA's renowned The Hidden Garden and partner Allyson Arons, where you can create your own arrangement, take a class, celebrate a special occasion, or pick up an exquisitely designed floral arrangement to go. The chic, light-flooded space in the heart of LA's fashionable Brentwood neighborhood, includes a collection of exquisite blooms from the simplest roses to rare novelty orchids, as well as interactive "ifleur" technology, and a selection of signature retail gifts. Fleurish is the quintessential experience and party venue for all ages…where you are the fleurist. The flagship Fleurish Brentwood opened in October 2014 at 11906 San Vicente Boulevard, with a Woodland Hills location opening in fall 2015 and more locations to come. In June 2015, Fleurish launched nationwide shipping of its Fleurkits -- the first floral company to offer design-it-yourself arrangement to create in your home, for your home or wedding.
For more information, visit youfleurish.com
Facebook: facebook.com/youfleurish
Twitter: twitter.com/youfleurish
Instagram: @youfleurish
# # #