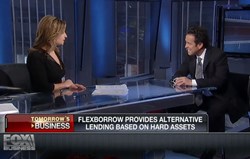 We deal with the high end. Our average loan is $24,000 to $25,000. Loans are simply based on the value of the asset.
Jericho, New York (PRWEB) December 31, 2013
Tracey Byrnes of Fox Business News interviewed Gary Brustein, CEO of New York alternative lender, Flexborrow™, about the need of alternative financing for small and medium-sized business in the face of tightened credit markets.
The discussion focused on Flexborrow's unique luxury personal asset lending against exotic cars, collectible autos, high-end watches, jewelry and more, with no requirement of credit check or income verification, a service more and more business owners and affluent individuals are utilizing.
Flexborrow has rapidly emerged as a leader in the alternative lending space providing immediate funding in the form of asset loans or advances to those who don't qualify for traditional financing, or who simply choose to avoid the traditional lending routes.
Brustein said, "We deal with the high end. Our average loan is $24,000 to $25,000. We don't ask what the money is for. Loans are simply based on the value of the asset and the advance that we'll give you. No credit checks. Loans are four months long, some as long as six."
Flexborrow enables clients to use personal assets to collateralize loans including, but not limited to: luxury and classic cars, high-end watches, jewelry, motorcycles and even business assets and inventory.
Flexborrow is currently lending millions per month, according to the CEO. Examples include five and six-figure loans on luxury and classic auto brands, Lamborghini, Bentley, Corvette and Ferrari, as well as personal asset loans on high-end watches like Rolex, Patek Philippe and Cartier, and jewelry, boats and other asset types.
Additionally, the company serves as a full service, managed sale concierge for the upper echelon, managing sales of clients' high-end classic and exotic autos. One noteworthy example: the recent sale facilitated by Flexborrow of a Ferrari automobile where the company advanced more than $100,000 to the owner prior to the eventual sale of more than $200,000. The concierge service extends to luxury watches and other assets as well.
Who Is Flexborrow?
Flexborrow™, America's Personal Asset Lender™, is the preferred solution for small businesses and individuals in need of quick capital. Flexborrow assists individuals and business owners who require non-traditional funding in the form of an asset loan or a managed sale. Assets include luxury cars, classic collectible cars, luxury watches, high-end jewelry, boats and more.
View Fox Business Video Interview
Visit Flexborrow.com