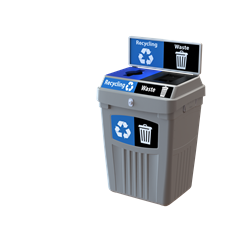 This revolutionary product will enhance an organization's recycling program to support its recycling goals while protecting its investment
Aurora, Ontario (PRWEB) July 15, 2017
CleanRiver Recycling Solutions is known for its innovative recycling bins, which provide customizable commercial recycling with adjustable volume and waste compartments. For more than 25 years, the company has provided recycling solutions made from recycled materials. It's flagship product, Transition®, is made from 97% recycled HDPE lumber.
Now, the company is introducing a more cost-effective solution, the Flex E™ bin, which is made with the smart design of Transition® but in a recycled plastic molded form. To be released on July 14, the new recycling bin is ideal for classrooms, recreational facilities, cafeterias, manufacturing facilities, offices, parking garages, and literally any public space.
"Working with clients in their pursuit of sustainability excellence over the past 25 years has revealed an endless series of challenges and changes," says Bruce Buchan, CEO of CleanRiver Recycling Solutions. "Change is constant, and it occurs faster than most organizations can react effectively. One of the most common problems is the change of the collection process from multiple streams to commingling, or the addition of new materials, such as compostable plates and cutlery. The Flex E™ bin allows programs to change streams and adjust volume requirements per container in less than five minutes."
Ease in custodial servicing was a top concern addressed in the design of the new bin, as it includes handles for effortless moving. Also, the product's vented design allows for easy bag removal, and the unique patented bow-tie bag system facilitates simplicity and speed in changing bags. The new product is sure to be popular for use at special event venues due to its ability to nest inside itself, which allows for easy storage.
A study performed by the University of Toronto Mississauga showed that the waste diversion rate of organizations increased by 167% through the use of high-impact graphics. Designed with these high-impact recycling graphics, the Flex E™ bin encourages participation in recycling. The product's sturdy background graphics and stream labels help people make the right choice as they toss their trash.
"This revolutionary product will enhance an organization's recycling program to support its recycling goals while protecting its investment," explains Buchan.
Facility managers who are interested in making waste management more sustainable can find out more about the new Flex E bin™ and view models of the product by visiting http://flexebins.com/.
About CleanRiver Recycling Solutions:
For more than 25 years, CleanRiver Recycling Solutions has designed and manufactured innovative recycling bins made with recycled materials. Headquartered in Ontario, Canada, the company performs all its manufacturing on-site. Its products protect a customer's investment due to the customizable number and volume of waste streams. To read more about the company, visit https://cleanriver.com/.