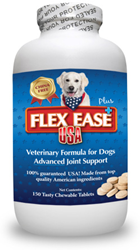 Pet Parents simply do not trust ingredients coming from foreign countries because they don't have America's rigorous standards.
Cheyenne, WY (PRWEB) June 12, 2014
WellPaws USA, a company that is dedicated to providing pet parents with top quality, 100% USA-made and sourced pet health supplements has just released a canine joint health product, FlexEase USA.
"We're seeing a huge trend among pet parents these days," says Noah Wells, CEO of WellPaws USA, "They want to know, with 100% certainty, that everything they give their dog is safe and from the USA. It started with Chinese chicken jerky, and now it applies to all their dog's treats, their dog's food, dog toys, and dog supplements. Pet Parents simply do not trust ingredients coming from foreign countries because they don't have America's rigorous standards."
WellPaws USA is one of a very small handful of companies that can make the claim that their products are 100% made with US ingredients. Many companies say their products are made in the USA but they are made with ingredients that come from China, South America, India and elsewhere.
The "Made in the USA" claim is misleading to many consumers, who are unaware that products can be made in the USA with imported ingredients, which can be unsafe for the pets who consume them. And that's why WellPaws USA went on a mission to create 100% USA-made and 100% USA-Sourced products for pets.
"We expect to knock the pet supplement industry on it's heels with FlexEase USA," said Wells, "When we set out on this venture, we met with dozens of manufacturers who all told us it was simply not possible to make a supplement with completely USA-sourced ingredients. Well, that's obviously not true - it's just more expensive to produce. In the end, we care more about our pets than our pocketbooks."
The most popular joint supplement companies, like Cosequin, are made in the USA, but a quick phone call to their customer service department will reveal that some of their ingredients come from South America and The Far East.
FlexEase USA is not just China-free and safe, it's effective too. It's a powerful supplement to support a dog's joint health and mobility. It contains 500mg of Glucosamine and 125mg of Chondroitin for building cartilage and cushioning joints; 500mg of MSM for cell function; 150mg of Vitamin C from Ester-C® critical for healthy joint function; 200mg of Cetyl Myristoleate, essential fatty acids for enhanced mobility; and  25mg of Hyaluronic Acid, a natural and powerful anti-inflammatory.
The proof is in the many testimonials the company has received since launching the product. Adrienne Tatum of Detroit, Michigan said, "This product has been a god-send for my dog. The doctor gave him some medication and it has not worked as good as this. The sadness that I felt when I saw my Pockie dragging around and acting like he was in pain was only out weighed by the joy that I felt once the product got into his system and he was leaping like a puppy again."
As a bonus, WellPaws USA offers it's FlexEase USA customers a no hassle, money back guarantee.
To learn more about FlexEase USA, visit http://WellPawsUSA.com or call 1-800-500-DOGS (3647).
About WellPaws USA:
WellPaws USA, LLC is an American company founded by pet lovers who saw a need for safe and effective supplements that pet parents can trust. All products are manufactured to meet the highest quality, safety, and health standards in the USA, using ONLY USA-sourced ingredients. All WellPaws USA products are manufactured in the United States in an Rx and OTC FDA drug licensed facility in accordance with Good Manufacturing Practice (GMP) by people who value the health and safety of your pets as much as you do.