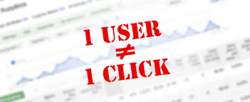 Better measure the value of each click that turns into business results.
Denver, Colorado (PRWEB) May 31, 2014
According to the article that users can access on BloggingNIK.com, this measuring system for conversions in Google was launched a few months ago.
The change can turn out influencing all those who conduct AdWords campaigns, regardless of their nature and their purpose.
However, the results can be really good.
So, the new Flexible Conversion feature can offer a better vision on the results obtained, as users will get the possibility to check out for themselves which is the value that Google AdWords bring to the business.
To learn more about Flexible Conversion system and how it really works read the full report at: http://www.bloggingnik.com/2014/05/flexible-conversion-new-way-to-count.html.
Naturally, this can depend on the objectives set by any business or campaign.
To help readers better understand this system, BloggingNIK offers the example of a sales site that offers an eBook for download. The site will definitely be interested in measuring its sales as separate conversions, while the download of the eBook will be regarded to as different or single conversion. This provides a better understanding on the results the business obtains.
BloggingNIK also writes that some names have changed. For instance, concepts such as Converted click and Conversions are introduced now.
The new changes are considered to be both useful and very important. The new article indicates that this system will actually allow users to correctly measure many types of conversions.
Using the new Flexible Conversion feature will help people understand the importance of micro-conversions and how to measure them correctly, as well as how to better optimize AdWords campaigns.
BloggingNIK advises users to be focused on understanding the reality, to find out what to do and how to grow the performance of the campaign they are conducting.
The information regarding the New Flexible Conversion feature that can be found here is very simple to access, although quite complex.
Users who work with the system of measuring conversions in Google will surely find this information as very useful.
Understanding how the conversion measuring system works is extremely important, as this way users will be able to discover what to do to grow the performance of their campaign and reach their purpose.