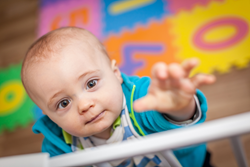 We are justifiably proud to be leading the industry by being awarded certification to show that our Sensogrip Kids bag is compliant with US and European standards
(PRWEB UK) 12 August 2015
According to the Child Accident Prevention Trust; every year, around 21,000 under-fives attend Accident and Emergency units in the UK, following poisoning incidents. 4,000 of these children are admitted to hospital. Fortunately most cases can be treated reasonably quickly, and the children do not suffer long-term effects, but not all are that lucky, and some cases are tragically fatal.
Packaging manufacturer, the Flexico Group is the first company to have a certified solution to make packaging for dangerous products child-resistant, which will hopefully help to reduce these frightening statistics. The CRC (child resistant closure) certificate for the US and EU was recently awarded to the Flexico Sensogrip Kids bag range and demonstrates compliance with US 16 CFR 1700.20 and ISO 8317:2003/COR.1:2005. But child safety is not solely the responsibility of the supplier; the most important measure to keep children safe is for dangerous products to be kept out of their reach; out of sight is not enough; stored in a high cupboard, preferably locked, which will prevent children getting hold of them in the first place. Cupboards with child locks on them are only the safe option until the child has worked out how to open them. The same applies to packaging; child-resistant lids are designed to make it difficult for children to open, but they are not child-proof. This does not mean they are not effective. Any packaging which is difficult for a child to open works on several levels; it slows the child down, making it more likely they will be discovered by whoever is supervising them before they have succeeded in opening the packaging; it can prove too much of a challenge for some children; or they can lose interest when they don't have easy access.
Karine Schaefer, Manager of Flexico UK, says," There is no such thing as child-proof packaging, if an adult can gain access to a product then potentially a child can too. But by making a bag and closure that requires greater dexterity or a more complicated method of opening, we can certainly delay, and in many cases prevent, a child gaining access to products that are dangerous to them. Flexico is always looking for innovative ways to improve our packaging and by working alongside manufacturers to make packaging less attractive to children as well as harder to open, we will hopefully save lives."
Medicines, in particular, are often mistaken for sweets, and the well-publicised single use detergent capsules, known as liquitabs are responsible for more than one child a day needing emergency treatment in the UK, according to figures from the National Poisons Information Service. " No packaging will replace the benefits of dangerous products being stored where they cannot be accessed by children," Karine Schaefer adds, " but the Flexico Group's certified, child-resistant, Sensogrip bags will make it more difficult for those children who gain access to dangerous items, such as detergents, to ingest them. We are justifiably proud to be leading the industry by being awarded certification to show that our Sensogrip Kids bag is compliant with US and European standards."
To find out more about the products and services the Flexico Group offer visit http://www.flexico.co.uk or call 01256 843 844.