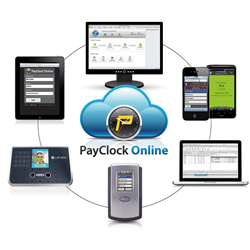 "PayClock Online software is suited for a medical environment," said Chris Patterson, IT administrator at Florida Heart & Vascular Associates.
Atlanta, GA (PRWEB) March 31, 2014
Florida Heart & Vascular Associates of Tampa has selected the Lathem PayClock® Online cloud-based time and attendance solution to manage employee timekeeping.
As a company focused on advanced technological solutions, Florida Heart & Vascular Associates wanted an employee timekeeping system that would offer the latest and most innovative solution for faster and more efficient payroll processing.
"PayClock Online software is suited for a medical environment," said Chris Patterson, IT administrator at Florida Heart & Vascular Associates. "Each of our employees can go online at work or even at home, and view their time card without being able to edit it. This eliminates frustration among our doctors and nurse practitioners, since now they can focus more on caregiving and less on back-office operations."
Patterson said PayClock Online reduced their payroll processing time by two-thirds. He also
liked that it integrated with their existing Lathem FaceIN time clock, which uses facial recognition biometrics to allow employees to clock in and out in seconds. FaceIN time clocks are touch-less, so they help reduce the spread of germs via touch, an especially appealing feature for doctors' offices.
"We have been a Lathem customer for many years," Patterson said. "We like that their systems are affordable and easy to use, and their customer support is exceptional."
Patterson also noted that PayClock Online easily integrates with QuickBooks, eliminating manual processing errors. And there's no need to house the data on office computers or servers since the system uses the cloud and Lathem's secure offsite data centers. "It keeps our IT costs down," Patterson said. "Any medical office would like that."
Click here to watch a video testimonial about PayClock Online from Florida Heart and Vascular Associates.
About PayClock Online
PayClock Online is a cloud-based solution that enables businesses to manage time and attendance anytime, anywhere with an Internet connection. This web-based employee timekeeping system allows managers to quickly process payroll on their own time, when it is most convenient for them. Mobile functionality lets managers track remote employees' hours or administer payroll from their own mobile devices. It's easy to set up employees to clock in and out from their computers, mobile devices, or Lathem time clocks, and enable them to view their own time records and PTO information on the web without supervisor assistance. PayClock Online easily integrates with popular payroll software systems like QuickBooks. Lathem hosts PayClock Online on the web, so there is no software to install or network servers for businesses to maintain, eliminating any support burdens for a customer's IT staff.
About Lathem
Headquartered in Atlanta, Georgia, Lathem is the leading provider of durable and affordable timekeeping products for small business. Founded in 1919, Lathem remains a family-owned and operated US manufacturer. More than 1 million small businesses worldwide use a Lathem solution every day to help manage their business, including cloud-based time and attendance systems, wall clocks, and biometric and mechanical time clocks.
Lathem's commitment to high-quality manufacturing and customer satisfaction is reflected through its industry leading 6-Point Assurance Program™ that provides customers with unique benefits, including free set-up and installation and time clock system trade-ups.
In celebration of Lathem's 95th anniversary, Lathem has launched a customer appreciation program that makes it easy for small businesses to move from traditional time clocks to automated and cloud-based time clock systems to increase productivity and streamline the payroll process.Learn more about special offers here.
# # #
Note to Editors: High- and low-resolution images of Lathem solutions can be downloaded online at http://www.lathem.com.