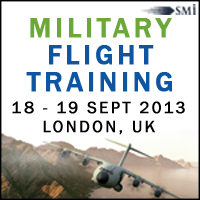 London (PRWEB UK) 3 September 2013
3rd September 2013: The 2nd annual Military Flight Training event will provide the ideal forum for international military decision makers to discuss and evaluate the latest developments in international cooperative training initiatives.
With two weeks to go, places are filling up so those interested should secure their place today to avoid disappointment. Click here to register online.
Attendees will be able to meet Air Training Commanders, Aviation Directors and Air Capability experts from across the military flight training community and have the chance to hear from a line-up of expert speakers who will examine: what technology is on offer in the field of fixed wing, rotary wing and UAS training, analysis of the advancements in live, constructed and simulated training as well as examining human factors such as instructor training and physiological issues.
The expert speaker line-up includes:

Colonel Giorgio Seravalle, Helicopter and Airlift Training Capability, Italian Joint Force Headquarters
Colonel Peter Trierweiler, Commander of the Pilot Training Institute, Austrian A F Aviation School
Corinne Jeffery, LTPA Director, Pilot Defence Simulation Centre
Peter Sapaty, Director of Distributed Simulation and Control, Institute of Mathematical Machines and Systems
Flight Lieutenant Paul Heasman, Training Officer, C Flt, RAF Valley
Major General Pascal Valentin, Commander, European Air Transport Command
Click here to view the full speaker line-up.
Conference presentation highlights include:
Distributed Interactive Simulation and Control of Collective Aerial Operations
Evidence-based learning in serious gaming
The Austrian Armed Force's new military pilot training system
Hawk T2 – The graduation standard
The 'Pivot to Asia'-consequences for future warfighting scenarios
In addition do not miss two interactive workshops, held on the 17th September:
Workshop A - Integrated Assessment in Training, led by HUCON Global
Workshop B - Military Flight Training in Times of Austerity, led by Airline Management AS
Places are now limited so companies wishing to attend can visit http://www.militaryflight-training.com to register or contact the Military Flight Training team on: +44 (0) 207 827 6736 or email ctuna(at)smi-online(dot)co.uk.
About SMi Group
The SMi Group is a highly professional, independent and global event-production company that specializes in Business-to-Business Conferences, Workshops and Masterclasses, and online Communities. The SMi Group creates and delivers events in the Defence, Security, Energy, Utilities, Finance and Pharmaceutical industries. For more information, please visit http://www.smi-online.co.uk.