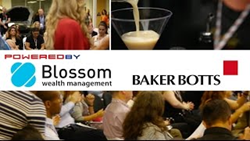 Whether it's launching new ventures, finding the right talent to move a business forward or introducing a passionate investor to a startup, the mission of F2F is to create deep quality connections that drive business..." - Adryenn Ashley
San Ramon, CA (PRWEB) August 22, 2016
Blossom Wealth Management and Baker Botts L.L.P. are pleased to announce that Flight 2 Freedom 4.0 is ready to take flight.
Scheduled for Friday, August 26th at the San Ramon Community Center, the day-long summit is aimed at expanding entrepreneurship, encouraging relationships across multiple industries, and recognizing women in business.
As organizer of the "Celebration of Women's Entrepreneurship" section Adryenn Ashley explains, "Flight 2 Freedom is unlike any other event you've ever been to, partly due to the format and topics, but mostly, due to the extreme care in who gets invited in the first place. The people I have met at F2F have been industry leaders, high integrity, the best in class at what they do, and all have one driving force, to make the world a better place. And F2F is where they come together to do that. Whether it's launching new ventures, finding the right talent to move a business forward or introducing a passionate investor to a startup, the mission of F2F is to create deep quality connections that drive business..."
F2F 4.0 will be split into two sections:

"Wealth = Relationships"
"Celebration of Women's Entrepreneurship"
During the evening portion of the conference attendees will have the option to network in the park with family, fly-fish, enjoy dinner on the lawn, or play inflatable soccer or volleyball.
Blossom and Baker Botts would like to recognize and give thanks to our many partners and sponsors for helping us make Flight 2 Freedom 4.0 special this year, including: Dimensional Fund Advisors, Follr, Power To Be Found, iGate, Elite Advisor Network, Valley Interlink, Dimensional, PuppyLove, WineStylist, SISM Street Soccer, Bon Affair, Compliance Works Inc., CrowdedTV, Wow! Is Me, Unlimited Business Loans, Chic Interiors, Photos for Every Occasion, The Urban Vino Experience, Claremont Lincoln University, AM Party Rentals, Simple Elegance Catering, The Growler, Premiere Aviation, Visit TriValley, Dualstar Digital, Innovate Pleasanton, American Micro Detection Systems, Agent International, BPM, Law Office of Nicole A. Davidson, Benefunder, iValley, and Coppia Communications. Without the incredible support of our sponsors, we couldn't make this amazing event happen.
About Flight 2 Freedom
Flight to Freedom is designed to enhance collaboration between vibrant entrepreneurial communities in the United States and other groups from around the world. F2F ethos believes that the success of a region depends upon open communication between academics, entrepreneurs, government officials, financiers & other specialists. The goal is to propel entrepreneurship in an efficient manner by pre-planning private meetings & group introductions within the general F2F networking format. The "pay it forward" spirit at our events provides the foundation for lasting relationships where friends do business with friends. One should come to F2F4 to meet some of the most successful local people from the Bay Area and beyond. The rest will be flying in from dozens of states and several foreign countries.
About Blossom Wealth Management
Blossom Wealth Management helps families accumulate wealth and then efficiently transfer it to the next generation by collaborating with the family's team of professional advisors. They make sophisticated and confidential connections for clients and understand that investments go beyond monetary return, they provide an oasis for their owners. For more information, please visit http://www.blossomwm.com.
About Baker Botts LLP
Baker Botts is an international law firm of approximately 725 lawyers practicing throughout a network of 14 offices around the globe. Based on our experience and knowledge of our clients' industries, we are recognized as a leading firm in the energy and technology sectors. Throughout our 176-year history, we have provided creative and effective legal solutions for our clients while demonstrating an unrelenting commitment to excellence. For more information, please visit http://www.bakerbotts.com.
For more information on this year's Flight 2 Freedom Summit, please visit http://www.flight2freedom.com/.