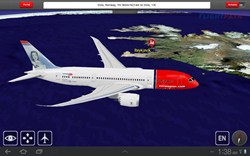 By far the most engaging passenger experience.
IRVINE, CA (PRWEB) August 12, 2013
In an agreement inked last year, Betria Interactive has been selected as the provider of Norwegian's interactive in-flight 3D Moving Map service for their new 787 fleet servicing expanded international routes. Norwegian's recent inaugural Dreamliner flight also served as the official in-service launch of Betria's new FlightPath3D Moving Map offering.
"We are excited to have Norwegian as a launch partner. Their focus on passenger experience excellence is a perfect match for the innovative offering provided by the FlightPath3D product suite." According to Boris Veksler, Betria's president, "It is truly the first service of its kind that can be deployed fleet-wide for any carrier."
The FlightPath3D product launch is a fully integrated in-flight moving mapping service. The new service includes a flight preview 'auto-play' script broadcast during aircraft boarding, a new in-seat interactive 3D map application with detailed satellite imagery & integrated street maps. This next generation product suite is enhanced by a new Destination Guide information service that updates relevant point-of-interest information periodically for each of Norwegian's destination cities.
"We looked at all of the available products in the 'moving map' space and FlightPath3D delivered by far the most engaging passenger experience," said Norwegian head of business development Boris Bubresko. "We are the first to fly an Panasonic's Android based in-seat system and FlightPath3D really showcases the capability of this new platform." NAS plans to leverage the service's highly configurable system to deliver a compelling, interactive 3D mapping interface combined with destination specific content to enrich the passenger's experience. Mr. Bubresko added that "We have only been operating the new platform for a month now, but initial feedback from our passengers has exceeded our expectations."
Norwegian and Betria are working closely together to plan expanded services and deployments of the FlightPath3D suite over the coming years.
* Android is a registered trademark of Google Inc.
* Panasonic is a registered trademark of Panasonic Corporation.
About Norwegian Air Service
Norwegian Air Shuttle ASA, commercially branded "Norwegian", is a low-cost airline listed on the Oslo Stock Exchange. Norwegian is the second largest airline in Scandinavia and third largest low cost carrier in Europe. Close to 18 million passengers chose to fly on its network in 2012. Norwegian has a route portfolio that stretches across Europe into North Africa and the Middle East, as well as long-haul flights to the US and Southeast Asia. The company has a total of 382 routes to 121 destinations on sale and employs approximately 3,000 people in Norway, Sweden, Denmark, Finland, Estonia, UK, Spain and Thailand. The company has 275 undelivered aircraft on firm order. Norwegian was founded in 1993 and headquartered in Fornebu, Norway. In June 2013, Norwegian was voted Europe's best low-cost carrier of the year by the renowned SkyTrax World Airline Awards. Norwegian offers better leg room than most competitors, in-flight WiFi, world-class punctuality and a fleet of 75 aircraft with an average age of only 4.6 years.
About Betria Interactive
Betria Interactive offers the most engaging, best-in-class in-flight mapping experience through its flagship product FlightPath3D. The FlightPath3D product suite delivers excellence in both the aircraft passenger experience needs as well as the end-to-end information supply chain required by airlines, data providers and advertisers to reach this highly desirable and captive market. FlightPath3D delivers an unparalleled experience and unmatched, cost effective licensing solutions available in multiple application and browser based configurations.
Betria Interactive, LLC, is headquartered in Irvine, California with offices in St. Petersburg, Russia. For additional information, please visit http://www.flightpath3d.com.