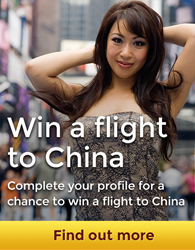 (PRWEB UK) 7 November 2013
Online dating site China Love Date announces its sweepstakes for new members to win a flight to China. To become eligible, interested persons simply have to register here: http://www.chinalovedate.com/signup/user/register by submitting their name, email, and birth date.
One lucky winner will be chosen during the summer of 2014, and will be notified by e-mail of the option to choose between a free roundtrip ticket to Beijing or to Shanghai. Once at the destination of choice, the winner will meet a member of the China Love Date team at the airport, and any meet-ups with selected Chinese female members will be planned and coordinated by staff.
The site, which helps Western men meet Chinese women, enables members to connect with and meet thousands of Chinese women. Each female has gone through a comprehensive vetting process, and are familiar with both Chinese and Western cultures. Should any language barriers apply, China Love Date offers video and phone translation services to make communication personable and easy.
Each online profile features multiple pictures, as well as information like height, weight, build, age, nationality, and education. Females can also write brief biographies about themselves, and are also prompted to enter in information like whether or not they're willing to relocate, if they want children or not, what type of occupation they have, and more.
Once a profile piques a male member's interest, he has the ability to send one of the Chinese women a letter or gift, talk on the phone or schedule a video conference, or even book a rendezvous. The site uses third party, trusted agents, and staff stands by the legitimacy of their mission – to help individuals find love even if they're living in opposite parts of the world.
Sample quote from someone within China Love Date: "We make safety and security our priority, and we're here to help people find love," said Toni. "As silly as that might sound, finding love is something everyone wants to do, and we're here to help with our years of experience."
For those interested in China Love Date, visit http://www.chinalovedate.com to view profiles and to sign up for a chance to win a free flight to China.
About China Love Date
China Love Date is an online dating site designed to help Western men meet women in China. Recruiters search for credible applicants in China, and selected candidates are put through a strict vetting process. For more information, visit http://www.chinalovedate.com