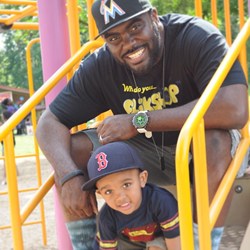 I am thrilled that these issues finally seem to be getting the attention they deserve -Marcus Bullock, CEO of Flikshop
Washington, DC (PRWEB) August 06, 2013
The team at Flikshop today released a statement applauding the efforts of recent programs both at home and abroad focused on strengthening the ties between incarcerated inmates and their families.
In particular, Flikshop CEO Marcus Bullock singled out efforts by Sesame Street, as well as the Invisible Walls Wales (IWW) project at Parc Prison in Brigend, UK for their efforts to connect families, especially those with children, with loved ones serving time behind bars.
"I am thrilled that these issues finally seem to be getting the attention they deserve," said Bullock. "The IWW project is obviously a great step towards keeping inmates and their children from becoming estranged, and also gives the incarcerated parents something to look forward to."
Bullock lauded the lasting effects of the IWW program, which was recently featured in an article by The Guardian (Family matters to young fathers in prison, July 23, 2013).
"Many incarcerated fathers can begin to feel like they matter less and less to their families as their time with them diminishes. Programs like IWW erase that worry by promoting regular contact between the inmates and their kids," said Bullock. "The importance of feeling like your family cares about you can't be overstated, particularly when you are behind bars."
Stateside, social media has taken the stage to show support to inmates. "There are so many prison wives and prison ministries whom have begun to show support to one another on Facebook and Instagram", says Bullock. "We're happy to see that this issue is becoming less and less of a taboo topic. Families are standing proudly together."
Sesame Street has recently made headlines (Desert News, 'Sesame Street' addresses growing number of children with an incarcerated parent, June 18, 2013) by introducing a Muppet named Alex whose father is incarcerated.
According to the article in the Desert News, the introduction of the character was not without controversy, with some critics decrying Alex's inclusion in the venerable children's program as a testament to the sad state of affairs in the US today.
Marcus Bullock does not agree.
"That is a very cynical reaction to a positive and necessary message being delivered by the gold standard in children's programming," said Bullock. "While it is sad that more children in the US than ever before have a parent who is incarcerated, we can't just sweep that fact under the rug. Those children need support and encouragement. Sesame Street is giving them that, and I support them fully."
Indeed, a 2010 study by the Pew Charitable Trust (Collateral Costs: Incarceration's Effect on Economic Mobility, 2010) found that 1 in 28 children (roughly 3.6% of all U.S. children) have at least one incarcerated parent.
In light of these troubling statistics, Flikshop has voiced their full support of any program whose goal is to maintain meaningful connections between families and their incarcerated loved ones.
"That has always been our main goal here at Flikshop," said Bullock. "We want to make sure that those family bonds don't break even though they are being tested. It can be a real strain, but communication is key, and so is community. We believe that when communication stops, recidivism flourishes. We want to fight that, and we support anyone who feels the same way."
About Flikshop:
Flikshop is a mobile application for Android and iOS designed to enable users to correspond with incarcerated loved ones in an easy and efficient manner. Flikshop and its outreach initiative Bring in the Community are dedicated to improving the lives of inmates and juvenile offenders through motivation and self-enrichment, as well as providing outreach to the communities affected by their crimes.
Become a fan on Facebook: facebook.com/flikshop
Follow on Twitter: twitter.com/flikshop
For more information email: info(at)flikshop(dot)com