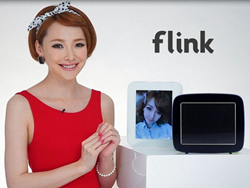 The Flink Frame is a frame for more than just yourself: your Photo Frame will keep up with everyone in your circle, no matter where or when they update.
New York, NY (PRWEB) March 14, 2014
The Flink Team, a group of technology lovers and marketing experts, recently announced the launch of their new Flink Frame campaign. The Flink Frame is an innovative new product that takes the effort out of managing a photo frame: all photos are directly synced to a beautiful eight-inch screen, where they can be shared with a private circle everywhere that there's internet.
The Flink Cloud Frame is an aluminum alloy, high-resolution screen with a clean and simple design. It has four gigabytes of storage and automatically updated photo streams from the people connected to the user's account. All photos are automatically resized to fit Flink's screen, and to move through photos, users only need to swipe their finger across the screen. Photos can be saved from slideshows.
In a similar fashion, the Flink app is easy to use: photos and messages can be uploaded directly to the frame, where they're automatically categorized into collections that can be accessed anywhere in the world. Users can add friends and family to their Flink account to keep them up-to-date with their activities. The app also allows the user to send holiday cards with custom photos for special holidays, such as Thanksgiving, Christmas, New Year's, and Mother's and Father's Days.
"The Flink Frame is a frame for more than just yourself: your Photo Frame will keep up with everyone in your circle, no matter where or when they update," stated a representative of the project. "Families of all sizes can enjoy this frame since everyone defines their own sharing. You can send your photos to anyone at no cost. Even better, you can apply filters to your photos, create your own personalized holiday cards, and send free voice messages along with your photos."
At this time, the Flink Team is accepting donations towards their Kickstarter campaign. The team's goal is to raise $80,000 by March 23, 2014. The company is offering a wide variety of perks to its contributors, including personalized cards, and Flink Cloud frames. As a special thank you gift, the Flink Team is gifting backers with unlimited space for their personal accounts.
Individuals interested in learning more about the Flink Frame can visit the Innovative project's Kickstarter page for additional information. Customers can also subscribe to the project's Facebook account for frequent updates, news, and photography tips from the Flink Team.
About The Flink Team:
The founders of the Flink Team are Alex, Patrick, and Robin. Alex is currently a PhD Candidate and a NDSEG research fellow at MIT, studying Electrical Engineering. In the past, Alex has worked for Intel and for several computer hardware and telecommunications firms. Patrick Ho is an entrepreneur and web developer, with a Master of Science in Mechanical Engineering from MIT. Previously he's worked in the medical device and reliability fields for Instrumentation Laboratory, UVA, MIT, and NASA. Robin has a MBA from the Carlson School of Management at the University of Minnesota. He's served as a Marketing Director for Motorola and has extensive entrepreneurial experience with web and hardware companies. For more information, please visit https://www.kickstarter.com/projects/9084249/flink-a-cloud-photo-frame-for-family-and-friends.