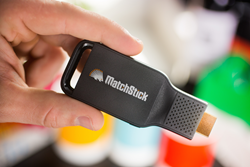 Inspired by Mozilla's Firefox OS, Flint leads the way to transform how Internet video can be organized, managed and consumed.
CES, Las Vegas, Nevada (PRWEB) January 05, 2015
Matchstick today announced Flint, the first open software and open hardware video-streaming platform created with Mozilla's Firefox OS inside. Flint aims to deliver highly interactive streaming and screen-to-screen experiences including two way interactivity, ad hoc and remote functionality. In addition to Flint, the company also announced hardware partnerships with both AOC and TCL to distribute Flint enabled products including TVs, monitors, and set-top boxes.
Matchstick, after launching a successful Kickstarter project in October 2014, is setting the standard for monetizing screen-to-screen streaming and interactivity using the Flint platform. Flint provides open source hardware and software capability for manufacturers, content providers, MSOs and others looking to easily integrate screen to screen streaming and interactivity. The Flint technologies, including open source hardware, software, and flinging protocol, will be available for download, review, and revision at OpenFlint.org.
AOC and TCL, leaders in flat screen technology, are among the first to embrace and implement Flint technology in products such as HDTVs, monitors, set top boxes, and more in 2015. The manufacturers will have access to capabilities and tools that will allow them to create compelling and user-friendly screen-to-screen experiences using any Firefox OS, Android, or iOS handset, tablet, or computer.
"The overwhelming response to Matchstick signified that the market was ready for an open source streaming solution," said Jack Chang, US General Manager of Matchstick. "Inspired by Mozilla's Firefox OS, Flint leads the way to transform how Internet video can be organized, managed and consumed."
Mr. Chang projects that with partners such as AOC and TCL, 1 million Flint devices will be distributed in 2015.
"Flint allows us to bring new streaming experiences to market faster and at lower cost," said Sean Shih, North America General Manger of both AOC & Phillips display monitors for North America. "We're thrilled to be part of developing a truly open and comprehensive platform for streaming video and interactive content."
"Open source solutions such as Flint offer great promise to consumers, developers, and manufacturers," said Rita Chao, Deputy General Manager, Internet Business Center, TCL Multimedia. "Ultimately, it will create a superior way to interact with any content on any screen."
Matchstick / Flint will be an exhibitor at the 2015 International CES, Tuesday, January 6 through Friday, January 9, 2015 at Eureka Park at CES Tech West at the Sands, Booth 75205.