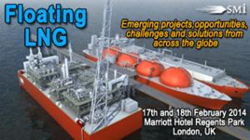 (PRWEB UK) 4 December 2013
Most of the world's large and easy-to-find gas reserves have been discovered. This means that to meet the world's expected energy demand, smaller and more remote gas supplies need to be developed. FLNG is now technically possible and can be a more cost-effective method of monetising remote gas reserves than traditional development options as the infrastructure and energy requirements to pipe the gas to shore are not needed. In this way, FLNG also leaves a smaller environmental footprint.
Against this backdrop, SMi's 2nd annual Floating LNG conference, taking place on 17-18 February in London, will play host to leading Floating LNG innovators, with an array of case studies provided on current and upcoming projects from across the globe. The two-day conference programme will also address how those at the forefront of the FLNG progress have adapted to various construction and technology challenges, and how they have made the most out of new business opportunities.
Speaker Panel includes:

Dinar Indriana, Senior Project Communication Coordinator, Abadi FLNG Project, INPEX
Benjamin Mauries, Project Manager, Technology Development, Saipem
Christopher Caudill, Director, United LNG
Constantyn Gieskes, Project Manager, Braemar Engineering
Alan Buxton, Chief Operating Officer, Gasol
Rene van Vliet, Chief Project and Technology Officer, Pangea LNG
Thomas Fiskaa, Vice President, Business Development, Hoegh LNG
Richard Tylor, Partner, Hogan Lovells
David Haynes, Principal Consultant, GL Noble Denton
Graham Hartnell, LNG Gas Consultant, Poten & Partners
To view the full speaker line-up and complete conference programme, visit http://www.smi-online.co.uk/2014flng20.asp.
Plus, don't miss two post-conference workshops on 19th February 2014, London, UK:
A: Legal and commercial issues affecting the FLNG industry | Led by Norton Rose Fulbright LLP
B: FSRUs - will they replace onshore terminals and become the terminal of choice? | Led by ThyssenKrupp Uhde Energy & Power