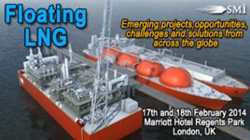 London (PRWEB UK) 19 December 2013
SMi's 2nd annual Floating LNG conference, taking place on 17th and 18th February 2014 in London, will focus on the challenges involving construction and technology, LNG market dynamics, new business opportunities and how to exploit them to their full potential. The two-day conference programme will also feature senior decision makers from leading FLNG innovators including INPEX, United LNG, Saipem, Pangea LNG and Excelerate Energy among others sharing valuable insight on current and emerging projects from across the globe.
Key presentations at SMi's 2nd annual Floating LNG conference include:

Pioneering technology for floating LNG industry
Dinar Indriana, Senior Project Communication Coordinator, INPEX
The FLNG project at Main Pass Energy Hub
Christopher Caudill, Director, United LNG
LNG Offloading: The Evolution towards Tandem Offloading
Benjamin Mauries, Floaters Technologies Development Manager, Saipem
How to develop small scale FLNG projects
Rene van Vliet, Chief Project and Technology Officer, Pangea LNG
Floating Regasification - Market Update and Future Trends
Edward Scott, Chief Operating Officer, Excelerate Energy
To view the full speaker line-up and conference programme, visit http://www.smi-online.co.uk/2014flng20.asp.
Plus, don't miss two post-conference workshops on 19th February 2014, London, UK:
A: Legal and commercial issues affecting the FLNG industry | Led by Norton Rose Fulbright LLP
B: FSRUs - will they replace onshore terminals and become the terminal of choice? | Led by ThyssenKrupp Uhde Energy & Power