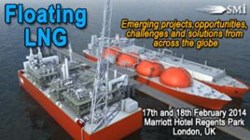 London (PRWEB UK) 15 February 2014
As expenditure in the FLNG market is set to increase to $64.4 billion in 2020, which is boosted further by the start-up and operation of pioneer vessels such as Shell's Prelude FLNG, there has never been a better time to discuss the challenges involving construction and technology, LNG market dynamics, new business opportunities and how to fulfil them to their full potential. Against this backdrop, SMi's 2nd annual Floating LNG conference, taking place on 17-18 February in London, will feature senior decision makers from leading FLNG innovators including INPEX, United LNG, Saipem and Excelerate Energy among others sharing valuable insight on current and emerging projects from across the globe.
(Source: Port Technology, January 9th 2014, 'Increased investment and activity predicted for floating LNG market', http://www.porttechnology.org/news/increased_investment_and_activity_predicted_for_floating_lng_market)
Speaker Panel includes:

Dinar Indriana, Senior Project Communication Coordinator, Abadi FLNG Project, INPEX
Benjamin Mauries, Project Manager, Technology Development, Saipem
Christopher Caudill, Director, United LNG
Constantyn Gieskes, Project Manager, Braemar Engineering
Francis Ugboma, Senior Manager, LNG & Business Development, Gasol
Thomas Fiskaa, Vice President, Business Development, Hoegh LNG
Gonzalo Ramirez, Senior Director of Development, Excelerate Energy
Richard Tylor, Partner, Hogan Lovells
David Haynes, Principal Consultant, DNV GL
Graham Hartnell, LNG Gas Consultant, Poten & Partners
To view the full speaker line-up and conference programme, visit http://www.smi-online.co.uk/2014flng18.asp.
Plus, don't miss the post-conference workshop taking place on 19 February 2014: Legal and commercial issues affecting the FLNG industry | Led by Norton Rose Fulbright LLP
The workshop will have an interactive format. We will cover a number of fundamental issues currently facing the FLNG industry including the lessons that can be applied from onshore project development to FLNG project development, relevant shipping issues (including an understanding of the liability regime and quiet enjoyment protection afforded to field operators) and how best to structure your FLNG transaction.