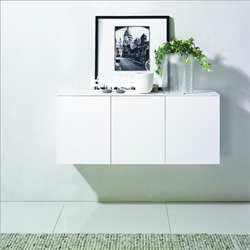 Where traditional console tables are designed to occupy a whole large wall, floating consoles are compact and streamlined, making careful use of white space to actually make a room feel larger and more open.
(PRWEB) August 21, 2014
HomeThangs.com – the Online Home Improvement Store has made their goal to deliver the right product to the consumer. With that in mind, shopping and home design tips, as well as special product selections are being introduced.
Console tables are a practical addition for a home's entryway. Not only do they provide much-needed surface space in a high-traffic area, but they can also make what can be an awkward room feel more inviting. But many models are more decorative than practical, and often are designed for spaces that are either large, traditional, or both. HomeThangs.com has introduced a guide to floating consoles, which are better suited to a more contemporary home and manage both to be more compact and have a bit more storage than a more conventional console.
Traditional console tables have thin, wide tabletops mounted atop very tall legs, and are designed to nestle up close against the wall, providing a simple ledge of surface space that won't restrict foot traffic. Consoles like this are typically used in an entryway, both to warm up the space and as a convenient place to put down mail or keys. Floating consoles are more like wall mounted cabinets, with a sturdy rectangular shape and no legs, but like conventional consoles are very thin, so they don't take up much space.
The appearance of these two different types of consoles is fundamentally different; where conventional console tables are tall and spindly, floating consoles have a very solid appearance. Beyond that, floating consoles are almost strictly modern in style, with very minimal designs, simple lines, and little or no ornamentation. The cabinets usually have slab style doors with smooth, unembellished faces and no door or drawer pulls, to the point that it can be a bit difficult to tell at a glance that the doors are there at all.
Most floating consoles also have a relatively simple finish, either a single solid color or a simple wood veneer or wood printed laminate, and usually with a soft sheen or gloss. Combined with their simple, geometric design and very modern wall mounted installation, floating consoles end up looking less like traditional cabinets or consoles and more like very large decorative shelves: they're elegant yet unobtrusive, and will draw the eye to any decor items set on top.
Not only does the fact that floating consoles are mounted to the wall give them a modern look and feel, it also makes them visually more compact. Traditional console tables are designed to occupy a blank wall, so even though they're very spindly, they have a large visual impact. Floating consoles stick to a single tight shape surrounded by white space, which can make the wall they're mounted on feel larger and more open. For a small entryway where storage space is needed more than decoration, a floating console can actually make the space feel larger rather than more crowded.
Taken together, all the seemingly simple features of floating consoles result in a cabinet that's seamless and uncluttered, which is absolutely perfect for a busy entryway. Floating consoles not only provide more storage than a console table of equivalent width, but they keep most of what's inside hidden. That means it's possible to keep everyday items close at hand but completely out of sight, while still leaving plenty of surface space.
Their simple design also means that floating cabinets can be custom built relatively simply and affordably, in an almost infinite variety of heights, widths, and depths. While most floating consoles are about the size of a small cabinet, they can range from anything as compact as a bare-bones shelf to cabinets as wide as the entire length of a wall. This makes them an ideal choice for oddly shaped spaces, weird corners, or inconveniently recessed areas, since they can be fine-tuned to fit any space seamlessly, which often isn't a viable option with more traditional tables.
To see some custom built floating cabinets in action, check out the full article here.
HomeThangs.com is not only a home improvement superstore, it also provides expert design tips and a comprehensive shopping guide, taking the ideas from professional interior designers, and offering tips to the consumers on how to pick the products to best suit their needs.