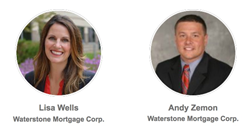 High loan volume is achievable by anyone willing to learn the methods - Andy Zemon, Waterstone Mortgage
Boulder, Colorado (PRWEB) January 10, 2017
Floify, the leading provider of mortgage automation software, is teaming with mortgage industry experts to host a webinar teaching loan officers and branch managers the step-by-step path to growing annual loan volumes to $100M.
Top-performers and industry coaches Lisa Wells and Andy Zemon, who drive a combined $120M in annual loan volume, will break down the path from $10M to $30M to $90M+ in annual loan volume and reveal how success is achieved through replicable methods and process, not by working harder.
The Path To $100M In Loan Volume
Wed, January 25th, 2017
1:00 – 2:00pm ET
(All registrants will receive a post-webinar recorded link for on-demand playback)
"The largest predictor of LO success is how well a team understands the growth impact of skill sets, leadership, culture, and systems, their order of importance, and when to focus on each," stated Andy Zemon, Sales Manager at Waterstone Mortgage. "High loan volume is achievable by anyone willing to learn the methods."
Moderated by Floify's Chief Marketing Officer, Holly Hamann, this expert panel will share:

The stages of LO business growth and how to assess which stage an LO team is in. (Hint: it's not about loan volume or how many hours work each week.)
Why culture, hiring, and systems are critical areas to master
How business priorities shift with each stage
The one thing LOs need to be doing for their business right now
Loan officers, branch managers, and their support teams can Register Here and will also receive a post-webinar recording for their convenience.
ABOUT FLOIFY
Floify (floify.com) is a mortgage solutions SaaS platform that streamlines the mortgage process by providing a secure communication and document portal between lenders, borrowers, referral partners, and other mortgage stakeholders. Loan Originators use the platform to collect and verify borrower documentation, track loan progress, communicate with borrowers and real estate agents, and close loans faster. The company is based in Boulder, Colorado and is privately held.