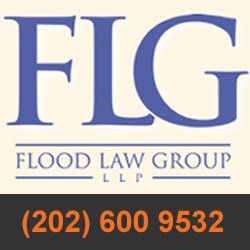 Hundreds of companies put workers in danger of asbestos exposure even though they were aware of the risks
Washington, D.C. (PRWEB) February 11, 2014
In response to a newly released study by the Mesothelioma Center at Asbestos.com, Flood Law Group LLP, a nationally respected personal injury litigation firm, believes education on mesothelioma and other asbestos related illnesses are more important than ever. The law group encourages anyone who has worked in industries where asbestos was heavily used to seek education on the seriousness of the disease and determine their rights for potential financial compensation due to dangerous exposure.
According to the December 2013 survey by the Mesothelioma Center, over 60 percent of individuals surveyed from their online newsletter had heard of asbestos but not mesothelioma before they started dealing with an asbestos-related disease that either the respondent or a love one faced. Of the 63 individuals surveyed, 25 percent of the respondents said they were exposed to asbestos while serving in the Navy; closely followed to second-hand exposure and working in construction.
With extensive experience handling asbestos lawsuits on behalf of people that are diagnosed with mesothelioma and their families, Flood Law Group agrees with these results and has found people who are at the highest risk include Navy veterans, steel mill workers, demolition workers, firefighters, drywall workers, painters, construction workers, mechanics and more.
Unfortunately, many people who worked in these industries where asbestos was used are only now being diagnosed with mesothelioma and other related illnesses. The disease can take up to 50 years to show up, meaning people who are 60 or 70 years old are forced to fight and cope with the cancer. This means education and early treatment for the potential illness is essential.
The American Lung Association cites that "often, by the time mesothelioma is diagnosed, it is in the advanced stage because it takes too long for symptoms to appear." There are about 2,000 – 3,000 new cases diagnosed each year in the United States.
"Hundreds of companies put workers in danger of asbestos exposure even though they were aware of the risks," said Chris Brown, Director of Communications at Flood Law Group. "At Flood Law Group, we fight to hold these companies accountable for the hundreds of thousands of people who are now suffering from mesothelioma and other asbestos-related illnesses."
Flood Law Group encourages anyone who has worked in these environments and industries to educate themselves on the symptoms and effects. Workers and families that are now suffering as a result can be compensated. Surviving family members may be eligible for compensation if their loved ones died from mesothelioma and other asbestos illnesses.
About Flood Law Group
Flood Law Group, LLP is an experienced litigation firm, serving injured persons and families across the nation. The firm handles complex cases involving asbestos litigation, pharmaceuticals, defective medical devices, medical malpractice, birth injuries and more. Flood Law Group, LLP is also one of the top law firms in the nation to handle serious injuries and wrongful death.