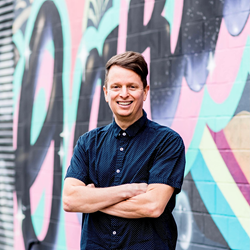 With FLOOD Media, Alan and team have built something truly special and I'm thrilled to be joining an ever-evolving team filled with top creatives and music industry leaders
LOS ANGELES (PRWEB) February 17, 2021
Anthemic Agency, home to FLOOD Media, FLOOD Magazine and Louder Than Bombs Productions, today announced that it has named Bay Area radio industry veteran Aaron Axelsen to head of programming of its soon to launch audio division. The announcement was made by Anthemic Agency and FLOOD Media founder and CEO Alan Sartirana.
In the new role, Axelsen will be overseeing the programming and development of FLOOD FM, a 24/7 digital indie, alternative and electronic radio station, as well as branded podcasting, and joins FLOOD Magazine co-publisher Randy Bookasta as part of the music and culture team.
Previously, Axelsen served for over two decades as music director and an on-air personality for the iconic Bay Area alt rock radio station Alt 105.3/Live 105 (CBS radio/Entercom). In this role, he anchored two of the longest running new music specialty shows in commercial radio history: Soundcheck and Subsonic.
In addition, Axelsen co-founded and manages San Francisco based Popscene, one of the nation's most influential indie music club nights with plans to launch events in Los Angeles and throughout the country starting in 2022. Throughout its record-setting twenty-five-year history the lauded event series has hosted the Bay Area debuts of Amy Winehouse, Billie Eilish, Sam Smith, Arctic Monkeys, Calvin Harris, Muse, The 1975, Maggie Rogers and Mumford and Sons, among others.
"I've known and worked with Aaron for over 25 years and have always had a great deal of admiration for the work he did with Alt 105.3/Live 105 and Popscene," says Sartriana. "FLOOD Media's mission is to tell the stories often overlooked by other traditional publishers and media outlets. We've seen tremendous growth over the past five years and the audio division was the next logical step. I know Aaron will be on the forefront of the audio medium and continue to champion the best artists for discerning music fans all around the world. "
"With FLOOD Media, Alan and team have built something truly special and I'm thrilled to be joining an ever-evolving team filled with top creatives and music industry leaders," Axelsen says. "I look forward to bringing my passion for new music discovery and experience of cultivating communities to such a reputable and trustworthy brand."
ABOUT FLOOD MEDIA
FLOOD Media spans the diverse cultural landscapes of music, film, television, art, travel, and everything in between. FLOOD Magazine covers have been graced by Neil Young, Shepard Fairey, Iggy Pop, Vic Mensa, H.E.R., Run the Jewels, M.I.A., Jeff Bridges, chef Roy Choi, and John C. Reilly's Dr. Steve Brule, among others—and on its website, FLOOD brings often overlooked culture and entertainment to the forefront. In a noisy world, we highlight the best and most intriguing players in pop culture through engaging media, intelligent op-eds, and thought-provoking interviews and features. Expanding into the audio universe, FLOOD Frequency Modulations and FLOOD FM will offer a brand-new take on indie "radio" and podcasts, providing content that traditional radio outlets don't. In collaboration with top entertainers and creative thinkers, FLOOD engages the conversation while continuing to champion all that inspires us.
ABOUT ANTHEMIC AGENCY
ANTHEMIC is a one-stop creative agency focused on creating extraordinary brand experiences that inspire consumers and influence popular culture. The team is a collective of inquisitive and engaged experts with deep relationships across music, lifestyle and entertainment. ANTHEMIC specializes in strategic campaign development, innovative concept ideation, experiential marketing and production, and talent curation. Creative extensions under ANTHEMIC include branded/commercial and original content production agency, Louder Than Bombs, and VFX and motion graphics studio, Wolf & Crow. Clients include a wide range of global brands including Levi's, JBL, Sirius XM, Saatchi & Saatchi and Toyota. For more information please visit anthemicagency.com.