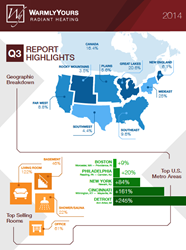 When homeowners experience radiant floor heating, they begin to look for opportunities to spread that comfort and control throughout the home.
Chicago, IL (PRWEB) October 21, 2014
Throughout 2014, WarmlyYours Radiant Heating has observed a trend of growth outside "business as usual." As improvement in builders' and homeowners' confidence are slowly producing measured growth across the country, in the third quarter (Q3) WarmlyYours outpaced the industry, reporting expansive growth in major metropolitan areas around the country and notable increases in key product categories, including snow melting systems and a variety of flooring types and rooms for electric radiant heating systems. Overall, WarmlyYours reports continued strength in the industry for the third quarter of 2014 in its "WarmlyYours Radiant Heating Q3: 2014 Industry Report," which can be found in it viewer-friendly infographic form.
The company reports expansion in several key metropolitan markets, including Boston (9.2%) and New York (84%). Standing out the most, however, was the stellar growth of Cincinnati, which jumped up 161% in Q3, and most notably Detroit, which grew an astonishing 245%.
Overall, the Mideast region grew by 33% in Q3 and became a total of 25% of WarmlyYours' business.
Flooring Maintains Strong Growth
After a strong second quarter with double- and even triple-digit year-over-year growth rates in for nearly all wood flooring types, the product category did not slow in Q3.
Sales in Q3 for Engineered (nailed) wood flooring installations increased 61 percent in sales revenues compared to Q3 2013, and Wood (nailed) flooring rose an additional 34 percent compared to Q3 2013 numbers.
Interestingly, sales of laminate (click together floating) floors using the WarmlyYours Environ System for floating wood and laminate improved 46 percent over Q3 2013 numbers as homeowners seemed to find new appreciation for the "love-it-or-hate-it" flooring type.
"Homeowners are truly exploring the potential of this product category and opening up to new possibilities in the home beyond tile," said Julia Billen, founder and president of WarmlyYours.
Homeowners also continued to expand the comfort of radiant heating to rooms beyond the bathroom with living rooms (122%), offices (61%), and basements (46%) showing strong improvement over Q3 2013 numbers.
"When homeowners experience radiant floor heating, they begin to look for opportunities to spread that comfort and control throughout the home," said Billen. "In Q3, we are seeing continued growth of electric radiant heat flooring systems beyond the bathroom into new spaces where the stable warmth provided by WarmlyYours' heating systems is desirable. Damp basements are given new life, offices become more productive work environments, and warm living rooms draw families together with these systems in place," Billen described.
Sizzling Sales for Snow Melting Systems
The most impressive growth, however, was reserved for snow melting systems in the third quarter. WarmlyYours reports that the sale of snow melting heating grew at an astonishing rate of 208 percent in Q3 as homeowners anticipate the upcoming winter. This is the second year snow melting revenues have been trending upward at such an accelerated rate, rising to 18 percent of WarmlyYours' overall business.
"Snow melting remains a strong performing category, with no slowdown in sight. The undeniable appeal and benefits of this product category are continuing to drive growth, especially as winter once again approaches," Billen said. "All WarmlyYours products continue to strongly prove their return on investment for homeowners in numerous ways. Our Q3 growth demonstrates that," she added.
You can view all the numbers in the "WarmlyYours Radiant Heating Q3: 2014 Industry Report" infographic at the company's website.
About WarmlyYours Radiant
For over 15 years, WarmlyYours Radiant Heating has offered the industry's most innovative solutions in radiant heating technology, from our flagship floor heating systems and radiant wall panels to snow melting systems, as well as comfort products, including towel warmers, mirror defoggers, and countertop heaters. With locations in the United States and Canada, WarmlyYours provides unrivaled personalized customer support from start to finish, featuring measuring and design services, 24/7 technical support, and our No Nonsense™ Warranty. For more information, visit http://www.WarmlyYours.com.