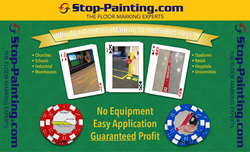 Wake Forest, N.C. (PRWEB) October 16, 2015
InSite Solutions, LLC., will be at the ISSA InterClean North America Trade Show Oct. 20-23 in Las Vegas to demonstrate how their high quality Superior Mark Floor Tape and Velcro® Tape can save a company time and money. InSite Solutions, LLC., will offer workshops explaining the benefits of adding floor marking services to a current business. Targeted at existing marking businesses and the cleaning businesses, InSite Solutions, LLC will introduce a more efficient way to effectively mark a workplace.
InSite Solutions, LLC manufactures Superior Mark floor marking tape, which has a patented design offering fast installation, easy maintenance and maximum strength, while holding up under the heaviest industrial traffic. Superior Mark Floor Tape is designed with beveled edges and a recessed, highway grade adhesive for durability and top performance.
Superior Mark floor marking tape is used for marking work cells, pallets, aisles, exits and much more. It can be easily removed in one piece, making it helpful for Lean and 5S initiatives that require flexibility to change floor layouts.
The demonstrations at the ISSA Trade Show will show potential buyers exactly what Superior Mark Floor Tape looks and feels like, how it is applied and how it can be removed.
Located at booth number 3285, Insite Solutions, LLC., will offer first-hand instruction to those looking to expand their business to include Superior Mark Floor Tape. Tape reduces prep time, installation time and clean-up time and Insite SOlutions, LLC., will field all questions about Superior Mark Floor Tape versus paint and will be offering samples.
InSite Solutions, LLC (DBA Stop-painting.com) is a leading manufacturer of indoor and outdoor marking tapes and signs. These products are alternatives to painting concrete floors and pavement, and offer a maintenance friendly solution that is both easy to install and remove. InSite's flagship product is Superior Mark Floor Tape, a patented floor tape that features a dual beveled edge design. InSite Solutions was founded in 2001 by Cliff Lowe, who is the current managing director. Headquartered in Wake Forest, N.C., InSite Solutions offers thousands of traffic control & industrial safety supplies on its ecommerce website, http://stop-painting.com.