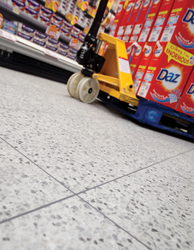 Easy to install Tough-Lock Natural floor tiles minimise 'down time' during refurbishment making them ideal for retail environments.
(PRWEB UK) 25 November 2014
COBA Flooring has introduced a smart collection of 'new generation' luxury vinyl floor tiles to its range. Patented Tough-Lock Naturals have the appearance of ceramic tiles, but feature all the benefits (and more) of traditional vinyl, starting with ease and speed of installation.
The vinyl tiles have a rather nifty interlocking system that is totally concealed once installed, thereby looking like any other 'ceramic/terrazzo' tile. This is made all the more authentic with the use of co-ordinating grouting. A finishing profile for neat edging is available for laid to surface installations. The tiles are simply loose laid to the floor and do not require any adhesive. Little or no sub-floor preparation is required and they can even be installed over existing floor coverings, as well as uneven or poor surfaces. This makes Tough-Lock Naturals ideal for installations, such as supermarkets or other retail outlets, where 'down time' for floor refurbishment can involve temporary closure and in turn, loss of revenue.
Another benefit of Tough-Lock Naturals is, as the name suggests, their durability. These robust, dimensionally stable tiles with glass fibre reinforcement can withstand wheeled traffic up to 1,000kg making them suitable for heavy duty installations.
Away from the practicalities, Tough-Lock Naturals commercial flooring looks great too and gives a modern twist to all sorts of environments. Choose from Terrazzo, Clay, Rustic, Granite, Sandstone, Marble Grey and Volcano.
Each tile measures 450mm x 450mm (including 2mm grout edging). For further information, please contact COBA Flooring on 0116 240 1161 or visit http://www.cobaflooring.com