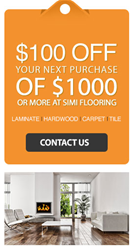 This special flooring sale will benefit any home improvement project in the Simi Valley.
Simi Valley, California (PRWEB) May 14, 2014
Simi Flooring has been dedicated to providing its Southern California community with top-quality flooring options and a commitment to excellent customer service since 1988. Now, Simi Flooring is proud to announce their new discounts and promotions, exclusively for locals. Whether it is a need for hardwood, carpet, tile, or laminate flooring, this special flooring sale will benefit any home improvement project in the Simi Valley. This new Simi Valley flooring sale offers $100 off any next purchase of $1000 or more of flooring with professional installation. Simi Flooring has a professional installation team available on-site to simplify their customer's life and redecoration process. For those who live in the Simi Valley or within a 25-mile radius from the showroom and warehouse, Simi Flooring guarantees local delivery, within 72 hours of your purchase! Other exclusive promotions that are only being offered to local communities is free estimates and measurements for locals. Simi Flooring's consultation program for locals can be extremely helpful in determining how to best complete individual home projects.
For the past 25 years, Simi Flooring has been dedicated to selling only the best, name-brand hardwood, tile, laminate, and carpet at affordable prices for every family. As a family owned and operated business, Simi Flooring understands how rewarding it is to turn a house into a dream home. Regarding their commitment to offer excellent flooring at reasonable prices, Simi Flooring also offers interest free financing options on eligible items, and long-term warranties, varying amongst different brands. Additionally, Simi Flooring offers a price match guarantee program. If a customer finds a lower price on the same brand of flooring throughout Ventura County, Simi Flooring will pay 10% of the difference, applied to select products only.
This is a great time for all locals of the Simi Valley region or residents of the neighboring communities to explore new flooring options and take the necessary steps to turn your remodeling visions into a reality. To take advantage of this exclusive local flooring sale from Simi Flooring, print out the promotion coupon from their newly remodeled website, by clicking the link from their site which is regionally specific. The qualified regions for this flooring sale include: Agoura Hills, Calabasas, Camarillo, Oak Park, Moorpark, Newbury Park, Simi Valley, Thousand Oaks, and Westlake.