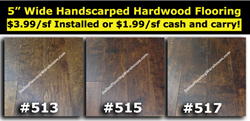 Dallas, TX (PRWEB) February 18, 2014
The Dallas Flooring Warehouse Spring Blowout Sale begins today, Tuesday, February 18, 2014 at 9 AM. Featuring the lowest prices of the season, this promotion features hardwood flooring, vinyl plank flooring laminate floors and a massive selection of carpeting.
"Today is the start of the spring wholesale blowout sale featuring the lowest prices of the season. Supplies are limited and please no lineups prior to 8 AM!," says Johnny Carpet, Dallas Flooring Warehouse spokesman.
Dallas Flooring Warehouse is located at 8717 Directors Row in Dallas, TX 75247. Their phone number is 214-850-4373. For more information about their wholesale flooring warehouse and showroom in Dallas, TX visit their website at dallasflooringwarehouse.com.