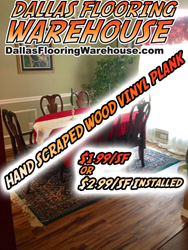 Dallas, TX (PRWEB) February 17, 2014
Dallas Flooring Warehouse is kicking off their spring blowout sale on Tuesday, February 18, 2014. With the lowest prices of the season this promotion features quality hardwood flooring, waterproof vinyl plank flooring, 50 year warranty vinyl plank flooring, eight and 12 mm limited floors and a huge selection of quality carpet. This special event begins at 9 AM on Tuesday with no lineups prior to 8 AM.
"This is the event of the season in regards to flooring in Dallas. If you've been waiting it's time to get off the fence. This is the sale you been waiting for to transform your living space with beautiful new floors. Give us a call or come on down to the warehouse and see for yourself why Dallas flooring warehouse is the only real first quality flooring wholesale to the public flooring warehouse in Dallas!" says Johnny Carpet, spokesman of Dallas Flooring Warehouse.
Dallas Flooring Warehouse is a wholesale flooring distributor open to the public. They only carry first quality merchandise and no seconds. In addition they had their own installation crew to ensure a full factory warranty on merchandise and installation warranty backed by over 30 years of experience. For more information about Dallas morning warehouse visit their website at Dallasmorningwarehouse.com, visit their warehouse and showroom at 8717 Directors Row in Dallas, TX 75247 or call 214-850-4373.