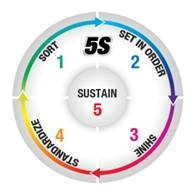 "Using our floor marking systems in conjunction with 5S, companies increase in productivity while reducing packaging time and lead time," said Cliff Lowe, Managing Director of InSite Solutions.
Wake Forest, NC (PRWEB) June 27, 2014
5S and Lean initiatives have been proven to improve the effectiveness of warehouses and facilities. Total Excellence Manufacturing, a manufacturing consulting firm, implemented a 5S and Lean program into a small manufacturing company including visual management, a system for managing raw materials, and structured problem solving. As a result, they saw a 50% increase in productivity, a 90% reduction in packaging time, and an 80% reduction in order lead time. 5S initiatives are successful and beneficial in making facilities as productive as possible.
The purpose of a 5S program is to eliminate waste and create an organized, effective, and sustainable workplace. In addition to designing and manufacturing products to assist in 5S implementation like floor marking tape, Stop-painting.com is constantly striving to provide all of the tools necessary to implement a 5S program. This has led to the latest addition of products to their catalog, including items like Kaizen Stands and cleaning products from Remco. Most recently, Stop-painting.com has added a line of brooms, squeegees, and brushes to assist in anything from light cleaning to deep sanitation. In addition to being effective in the "shine" aspect of the 5S initiative, they are available in multiple colors to provide for organization and proper placement within the facility. The addition of these products provides multiple color, material, and size options for all cleaning needs in environments that are wet, have heavy debris, or are involved in food preparation.
Stop-painting.com continues to offer their flagship item, the Superior Mark Floor Marking Tape. Superior Mark Floor Tape can be extremely beneficial in the implementation of a 5S program. In the "set in order" phase of 5S, OSHA requires that aisle ways and walkways must be properly designated. Superior Mark is a product that provides a cost-effective and durable resource for properly marking floors to meet required standards. Although not a new product, the Superior Mark Floor Tape continues to be the most effective option when marking floors for 5S programs. With recessed adhesive and beveled edges, it is designed to work in environments that involve heavy traffic and forklifts.
Superior Mark floor marking tapes are popular for 5S because they can be easily removed without damaging floors. This lends a flexibility that is essential for the frequent layout changes associated with 5S and Lean initiatives.
In addition to the 5 components of the 5S, some facilities even add an extra category for "Safety". Creating a more efficient and organized workspace with products like Superior Mark Floor Tape results in a safer environment. The National Safety Council has deemed June as National Safety Month and the emphasis on a 5S program creates a safer working environment for all employees.
For more information about implementing a 5S program in your facility and receiving a sample of Superior Mark Floor Tape, please visit Stop-painting.com or call customer support at 919-569-6765.