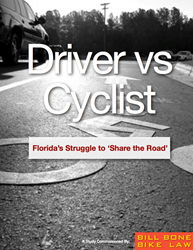 The continuation of roadway improvements is the biggest thing that will help the cyclists out. Bike lanes will help both the cyclists and drivers of vehicles to remain safe on Florida's roadways.-Sgt. Mark Wysocky, FloridaHighway Safety and Motor Vehicles
(PRWEB) November 14, 2013
Conducted on behalf of BILL BONE BIKE LAW, the survey captured over 1,500 responses using multiple sources in order to gauge general driver perception of cyclists on the road as well as cyclist perception of how drivers view their presence on the roadways.
An overwhelming number of respondents felt that "bikes belong on the sidewalk" indicating a scary misconception of Florida's bicycle laws. As such, it seems clear that driver education must be improved in order to inform the general public of what to expect while driving in close proximity to a cyclist. Sgt. Mark Wysocky of the Florida Highway Safety and Motor Vehicles believes that improvements to Florida's roads will help: "The continuation of roadway improvements is the biggest thing that will help the cyclists out. Bike lanes will help both the cyclists and drivers of vehicles to remain safe on Florida's roadways."
While the popularity of cycling worldwide has continued its climb over the last several years, embracing the culture of cycling is a perpetual issue in the United States today. In Europe and South America bicycle riders and bicycle supporters have grown tremendously coupled with an increase in the number of cyclists who ride to work, ride recreationally and ride competitively. Unfortunately, the USA and particularly drivers in the state of Florida seem slow to adapt to these new cycling trends as highlighted in the white paper done by BILL BONE BIKE LAW.
In fact, recent studies indicate that not one American metropolis is listed amongst the world's most bike-friendly cities. This lag in acceptance surrounds a general false impression in relation to cycling as a means of transportation, a sport, and a culture. The transformation of American driver perception regarding cyclists is a slow process that will require a substantial effort from both sides of the fence. Learn more about the study results in the 'Driver vs. Cyclist' white paper.
About BILL BONE BIKE LAW
BILL BONE BIKE LAW is steadfast in its pursuit of making the roads safer for cyclists throughout the state of Florida. Through a combination of advocacy, education, and legal justice, the firm serves to provide a voice to cyclists who so often suffer from the actions of careless motorists. Formed by longtime cycling advocate and trial lawyer, Bill Bone is dedicated to providing hope, advice, and legal help to all of those on two wheels who have been injured because of a negligent driver. Please visit our website.