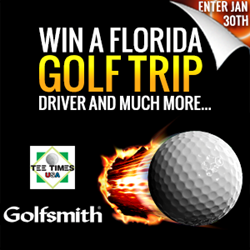 Flagler Beach, FL (PRWEB) January 22, 2014
Tee Times USA and Golfsmith Florida stores are partnering to run four Facebook contests in 2014 with fantastic prizes including golf trips to widely recognized destinations, equipment from major manufacturers, and Golfsmith gift cards.
The first contest will run from January 30 through February 28, 2014 with the lucky winner receiving a 4 round / 3 night golf trip, a new driver, a Golfsmith gift card, custom club fitting and swing analysis.
On January 30, Tee Times USA and Golfsmith will announce further prize details regarding the prizes offered. To enter, contestants may visit Tee Times USA's Facebook page and follow the instructions.
About: Tee Times USA
Tee Times USA is the market leader in custom Florida golf packages and tee times. Now in its 23rd year, Tee Times USA books tee times and golf packages months in advance at over 300 Florida golf courses and resorts. Annually, Tee Times USA books over 100,000 rounds of golf for nearly 20,000 customers. Over 200 hotels and resorts in Florida can be combined with the courses to create the ideal custom golf vacation for golfers of every budget. The more budget-minded traveler appreciates the insider tips and exclusive golf deals to which only Tee Times USA has access.
Tee Times USA has a modern website and booking engine, http://www.teetimesusa.com providing a great way to research, plan and book your golf trips. The website is supported by Tee Times USA's Florida-based team where friendly, experienced golf vacation specialists are standing by with helpful advice ready to provide a quote or book a golf trip by phone.
In 2014, Tee Times USA formally launched a partnership with LPGA Touring Professional Kathleen Ekey to bring our customers an instructional series on how to improve in common areas of the game that are challenging for golfers at every level. Additionally, Tee Times USA is active on Twitter @teetimesusa, and facebook.com/teetimesusa.
Tee Times USA currently produces three golf vacation brochures, distributed to over 100,000 golfers throughout the world to help plan their next golf trip. Tee Times USA provides marketing solutions for golf courses and resorts looking to attract more traveling golfers and ensuring maximum exposure while taking advantage of the latest technology and strategic alliances with other resorts and courses. Tee Times USA also serves as the private label golf package fulfillment center for golf management companies and hotel brands that market themselves as golf destinations.
About Golfsmith International
Golfsmith International, based in Austin, TX, is the largest specialty golf retailer in the world operating Golfsmith stores in the U.S. and Golf Town stores in Canada. The business operates as an integrated, multi-channel retailer, offering customers the convenience of shopping through any of its 150+ experiential retail locations or 24/7 shopping at its e-commerce sites, http://www.golfsmith.com and http://www.golftown.com. Golfsmith International offers extensive product selection of premier branded golf equipment as well as its proprietary products, advanced club-fitting services and pre-owned clubs.
Contact:
For More Information about golf vacations or tee times, contact Florida's Golf Vacation Specialists at 1888-GOLF-FLO or visit our website.
Media Contact:
Marc A. Bender
Tee Times USA
386-439-0001 x319
mb(at)teetimesusa(dot)com