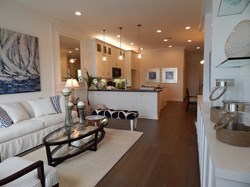 Boynton Beach, FL (PRWEB) January 23, 2014
It's 2014 and Villaggio Reserve is celebrating the new year with phenomenal sales success.
The spectacular Palm Beach County development is destined to be Delray Beach's next great resort-style 55+ residential community. Whether impressed by the iconic Grand Gatehouse on Hagen Ranch Road and Atlantic Avenue, the impressive 2,000-square-foot sales center or the cozy decorated models, guests are signing commitments to make Villaggio Reserve their home.
What's most amazing is that Villaggio Reserve is enjoying such success – even before the Grand Opening was held Jan. 11-12.
"Already, our first phase is more than 75 percent sold out and such brisk sales have been beyond our comprehension," said Ron Yuter, senior vice president with developer Ansca Homes. "From our Pre-Grand Opening before the holidays and through the season, we have set the stage for a remarkable 2014."
People are raving about the amenities, features and finishes Ansca Homes has designed into every Villaggio Reserve residence. Built along European-style boulevards lined with accent lighting and lush landscaping, elegant Spanish-Italian architecture homes feature paver driveways and private landscaped walkways beneath covered entry foyers. Inside, the models have been meticulously decorated by acclaimed Boca Raton designers D&B Interiors to create a comfortable, cozy elegance.
Complementing magnificent residences priced from the $260,000 range is the Cabana Club. This Clubhouse will be the highlight of the breath-taking 38,000-square-foot lifestyle destination and is certain to become the town square for Villaggio Reserve. From dining and entertainment, to fitness and relaxation, it will meet residents' every need.
Meals from breakfast through dinner will be prepared by their skilled chefs and can be enjoyed indoors – or amid the sunshine and breezes on the screened outdoor seating area. The Grand Ballroom will host community programs, musical and theatrical performances, and even guests' private events. Multipurpose rooms will be available for crafts, cards or billiards, and complementary Wi-Fi will be available throughout the clubhouse.
The fully-equipped and -staffed Fitness Center will offer yoga and Zumba dance classes and customized workouts. Outside facilities include six regulation tennis courts, "pickle ball" or small-court tennis, bocce ball, and four heated pools surrounded by the resort-style poolside patio and cabanas.
See why Villaggio Reserve is enjoying such phenomenal success – and has become Delray Beach's next great community. Visit VillaggioReserve.com, call (855) 230-1817, or just stop by. Villaggio Reserve's entrance is located on Hagen-Ranch Road just north of Atlantic Avenue.
About the company:
Ansca Homes has grown into a leading Florida home builder proudly led by the experience of Angelo Scardina; his son Charles Scardina, president of the company; his son-in-law Ramsey Akel, vice-president; and his grandson Charles Scardina Jr., representing the next generation. With the vision and resources to continue to create homes and new home communities that feature uncompromising excellence and attention to detail, Ansca Homes continues to lead the way.
The success of Ansca Homes has always been achieved by adhering to basic principles: create the best and the most lifestyle-enhancing homes in both active adult and family communities; build homes of superior quality that provide unsurpassed value and comfort for its customers; and operate the privately-held family business ethically, astutely and insightfully.