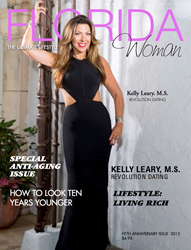 It is a joy for me to see the right people get together and know Revolution Dating was the catalyst in accomplishing this feat.
Palm Beach Gardens, FL (PRWEB) December 08, 2015
Elite matchmaking service Revolution Dating and its Founder and President Kelly Leary are the main cover story in the 2016 holiday edition of The Florida Woman. "The Ultimate Lifestyle" magazine is available now and being distributed throughout the first quarter of 2016.
In its detailed profile piece entitled "Kelly Leary, A Woman with a Purpose," the publication underscores the incredible success that Revolution Dating and its clients have experienced in recent years under Leary's expert lead and guidance. The article also highlights the top dating service's customized approach to pairing up local singles and its exciting lineup of ongoing social events.
"The way her business is structured is why it works," the article states. "Kelly Leary has a very low-key, first class operation for single dating women and men who are professionals with both coming from a similar background…Revolution Dating is a 'class act' and it gives people, regardless of age, a chance to meet the right gal or guy, in a very up-scale environment with available, educated people."
Leary, who holds a Master's degree in clinical psychology and a distinguished, two-decade track record in the dating industry, was quoted several times within the article. "It is difficult trying to find the right gal or guy and the internet dating scene only scratches the surface…," she said. "It is a joy for me to see the right people get together and know Revolution Dating was the catalyst in accomplishing this feat."
Revolution Dating serves clients of all ages reaching from Broward County to Vero Beach. The company offers customized image consultations, professional photo shoots, writing assistance with personal profiles, mock dating with feedback and relationship coaching. There is even a millionaires' section of Revolution Dating - the "club within the club" for the elite of Florida.
All about spreading the love, Revolution Dating is deeply dedicated to giving back to the local community. The leading matchmaking service's most recent charitable endeavors included sponsoring the Palm Beach Holiday Boat Parade and Toys for Tots Drive on December 5 and the 1st annual Barks, Babes and Brews bachelor & bachelorette auction on December 7, benefitting the Tri-County Animal Rescue.
Anyone interested in learning more about Revolution Dating can contact the company at 561-630-XOXO (9696) or visit http://www.revolutiondating.com.
About Revolution Dating 
Revolution Dating is an exclusive Florida matchmaking service that helps single, divorced or widowed men and women find friendship and romance. With clients ranging from Vero Beach to Broward County, the company hosts a wide variety of events and provides individually tailored matchmaking and coaching. Reach Revolution Dating by phone at 561-630-XOXO (9696) or online at http://www.revolutiondating.com. Consultations are available by appointment only at 5090 PGA Boulevard, Suite 208, Palm Beach Gardens, FL 33418.