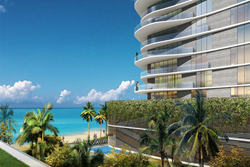 Pomaoano Beach, Florida (PRWEB) April 13, 2017
Anyone looking for a brand new Florida beach condo better bring a lot of cash. Condo prices have rebounded to record levels in some parts of Florida - especially on the ocean. Florida home prices have increased 63 months in a row since they began to recover after the 2008 real estate crash. In the state's Gold Coast stretch from Miami Beach to Palm Beach, almost all the new beach condos with ocean views under $1 million are gone.
In the Fort Lauderdale area, where much of South Florida's new beach construction is located for the lower land costs, several new projects are under construction. Just north of Fort Lauderdale, developers have targeted the Pompano Beach condo market to take advantage of public and private investments of over $50 million in a new beach, pier and entertainment zone. The most expensive building in the city's history, with both ocean and Intracoastal views, is under construction about 70 percent sold. Its penthouse recently sold at a record-setting $5.5 million; only two ocean-view units are left available under $1 million. Everything else new at the beach from South Beach to well north of Palm Beach with ocean views is over $1 million – usually in the multi-millions. The most expensive new penthouse in Miami Beach comes with an 8,000-square-foot terrace and a $55 million price tag.
The Miami Beach market is especially expensive with over a dozen highrise developments built to appeal to the world's wealthiest people. South Florida attracts buyers from all over the world looking for vacation homes in warm climates. According to the National Association of Realtors, Florida accounted for 22 percent of purchases by international buyers in 2016 followed by California at 15 percent and Texas at 10 percent. Although Miami-area sales have slowed down with too much inventory, a strong dollar and poor economies in much of the world, prices are going up in the rest of the state.
Even with the higher prices, a new Miami Beach condo is still relatively cheap compared to prices in Manhattan and London. Several South Florida builders have launched projects in Fort Lauderdale where the most upscale beach condos usually sell for less than $3 million – about 50 percent less than comparable properties in Miami Beach. Even so, combined Fort Lauderdale condo and home median sale prices for the entire city have reached $305,000 – a record high since at least 2007.
While some future condo buyers are waiting for another condo crash, the more likely future is rising demand and prices as more baby boomers move into retirement, wealthy South Americans look for a safe haven for their money, and Canadians and Europeans gobble up the cheaper Florida real estate. Florida recently passed New York as the country's third largest state with almost 20 million residents. Florida's population is increasing more than every state except Texas, and many are dreaming of a home on the beach.
TopTenRealEstateDeals.com has been featured in many of the country's top media websites including Time, CNBC, Yahoo, Parade, USA Today, AOL, NBC and CBS MoneyWatch.