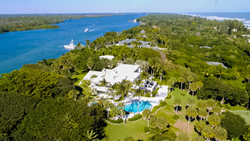 Jupiter, FL (PRWEB) March 17, 2015
Engel & Völkers Jupiter announces the exclusive listing of one of the most sought after properties on Jupiter Island, offered at $45 million. The owner of the property is Horst Brandstätter, the sole owner of Germany's largest toy manufacturer "geobra Brandstätter" and creator of the world-famous Playmobil figures.
Located on Jupiter Island, a barrier island off Florida's East Coast, the property presides over 9.4 acres of exceptional grandeur, while spanning an impressive 506 feet along the Ocean and 513 feet along the Intracoastal waterway. The stylish contemporary main house enjoys a unique natural elevation of over 30 feet, set atop the highest point on Jupiter Island, with breathtaking panoramic views over the Atlantic Ocean, the expansive lush grounds with old Banyan trees and the Intracoastal waterway.
"Considered one of the most sought after properties in South Florida, this truly exceptional estate on Jupiter Island is the quintessence of peace and serenity, ideal for those who hold privacy and exclusivity dear", said Ken Meierling, License Partner and Broker of Engel & Völkers Jupiter and adds "Its natural elevation is truly without peer and could not be replicated"
The main house has a contemporary design and forms a beautiful ensemble with a two-bedroom guesthouse and a spacious three-bedroom beach house. Altogether the interiors total some 12,672 square feet.
One of the many highlights is the living room, which is encased in floor-to-ceiling glass on three sides and built on a turntable so it can rotate 360 degrees at the touch of a button. "Mr. Brandstätter is a toy maker—what do you expect?" said Mr. Meierling, adding that Mr. Brandstätter built the rotating living room so he could look at the Ocean in the morning and the Intracoastal Waterway at sunset.
The estate also features a contemporary outdoor pool area, a putting green and a par-three hole as well as a private boat dock.
Mr. Brandstätter is the sole owner of Germany's largest toy manufacturer "geobra Brandstätter". He is also the creator of the world-famous Playmobil figures. The entrepreneur's love of Florida first began when he discovered golf back in the late 1980s. He soon found that the climate in his home country of Germany wasn't always that suited to an enjoyable round on the course. "Playing golf in Germany is tough during the autumn and winter months," Brandstätter realised. "It was clear that I'd have to relocate to warmer regions if I wanted to practice my new favourite pastime.
His choice of second home quickly fell to the golf mecca of Florida. The USA, being the largest toy market in the world, also had a professional draw for "Mr. Playmobil" in any case. Besides his rounds of golf, he also had a chance to inspect the Playmobil FunPark, which he had established there in Palm Beach. Having acquired the land plot on Jupiter Island in 1991, he devoted a great deal of time and energy to building and renovation work on the property. The finished result was his own private paradise. Since 1995, he has regularly spent the winter months from November to April in Florida.
The decision to sell has not come easily for the successful toy manufacturer. But his reasons are plausible. "The older I get, the more important it is that my doctors in Germany are within easy reach. So I can't use my house in Florida as often as I'd like anymore."
Jupiter Island
Jupiter Island is the southernmost barrier island on Florida's sunny east coast. It has a reputation as a haven of peace and tranquility that is ideal for those seeking privacy and exclusivity. Many well-known personalities from the worlds of business, sport and entertainment have taken up refuge here for precisely this reason. "Affluent and truly beautiful at the same time, this enclave is also rich in recreational joys, attracting nature lovers and modern cosmopolitans alike. There is a carefree vibe in the air, combined with the vibrancy of sophisticated urbane living", Ken Meierling added on a final note.
You can download high resolution images here: http://bit.ly/property-photos
(Source: Engel & Völkers Jupiter)
Link to the online property description: http://bit.ly/evusa-jupiter
For further information please contact:
ENGEL & VÖLKERS JUPITER
Ken Meierling
Owner/Broker
400 S US Highway One, Suite 3
Jupiter, Florida 33477
Phone: +1 561-602-4333
About Engel & Völkers
Since its beginning in 1977 as a specialty boutique providing exclusive, high-end real estate services in Hamburg, Germany, Engel & Völkers has become one of the world's leading companies specializing in the sale and lease of premium residential and commercial property and yachts. Engel & Völkers currently operates a global network of over 5,500 real estate advisors in 560 residential brokerages and 65 commercial offices spanning 39 countries across six continents, offering both private and institutional clients a professionally tailored range of luxury services. It established its North America corporate headquarters in 2007 and opened its first brokerage in the same year. Committed to exceptional service, Engel & Völkers supports its advisors with an array of premium quality business services; marketing programs and tools; multiple platforms for mobile, social and web; as well as access to its global network of real estate professionals, property listings and market data. Engel & Völkers is an active supporter of the Fair Housing Act and the Equal Opportunity Act. Each brokerage is independently owned and operated.