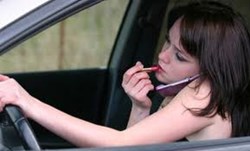 With young drivers on the road and the fear of them texting and driving recklessly we encourage parents to share our tips with their teen drivers.
Longwood, Florida (PRWEB) October 24, 2013
Teachers Insurance Specialists announce safe driving tips for teenage drivers in honor of National Teen Driver Safety Week from October 20th – 26, 2013. The National Teen Driver Safety Week is a time designated by Congress annually to raise awareness of teen driver safety and encourage safe driving and passenger behavior.
"With young drivers on the road and the fear of them texting and driving recklessly we encourage parents to share our tips with their teen drivers. All it takes is one mishap and it could be life ending. In Florida, insurance premiums are affected when a driver or somebody in their family has an auto accident or gets a ticket. We hope that by offering our safe teen driving tips it will remind young drivers that their insurance premiums are affected by reckless driving habits," states Simone Baldwin, owner of Teachers Insurance Specialists.
To celebrate National Teen Driver Safety Week the Florida Insurance agents at Teachers Insurance Specialists offer these tips:
1) Limiting the number of passengers in a teen driver's vehicle to reduce the number of distractions while driving.
2) Parents can set a good example by setting the phone down while they are driving and pulling off to the side of the road if they need to make a phone call or send a text.
3) Always buckle up.
4) Keep in mind that doubling a vehicle's speed can nearly quadruple the distance required to stop.
5) Make sure your teen drivers are listed on your Triple A membership in the event they need a tow.
6) Discuss with your teen driver the effect of having an accident or a ticket actually has on a Florida auto insurance policy.
Baldwin adds "Discussing the effects of reckless driving on a Florida insurance policy is something not too many parents do. When I got my license as a teen, insurance was the last thing on my mind. Now with all the distractions a driver is exposed to between texting and phone calls it's important to inform teen drivers that there will be a hefty price to pay should they have an accident or get a ticket. As an insurance agency we also recommend parents explain to their teen drivers about the many insurance discounts available for safe driving so that when the teen(s) do get their own Florida auto insurance their clean driving record will help them save money when it comes to their own personal car insurance policy. Parents don't always talk with their teen drivers about this so they don't make the connection."
Teachers Insurance Specialists is located in Longwood Florida at 2917 West State Road 434 in suite 101. Their office is about 25 minutes East of Downtown Orlando. Consumers are encouraged to call their office at 407-622-6634 for quotes on life insurance, home, property and car insurance. Teachers Insurance Specialists also offers insurance policies on boats, motorcycles and golf carts.
"Thanks to our warm climate year round we have many Florida residents who have an auto insurance policy on their motorcycles and golf carts. There are several golf course communities in Central Florida where residents use their golf carts like a regular automobile. Having golf cart insurance is essential as they can cause significant damage or injury," explains Baldwin.
The insurance agents at Teachers Insurance Specialists encourage consumers to call their office to discuss the various insurance discounts available. Their Longwood, Florida insurance office is open Monday – Friday from 8am – 5pm EST. For more information about the various auto insurance policies offered please visit online at: http://carinsurancefloridaspecialists.com/.