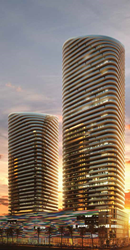 Pompano Beach, Florida (PRWEB) January 20, 2015
It's been a few years but the Florida condo pre-construction industry is back in business in much of the Sunshine State. After years of stalled projects and almost nothing new while developers and banks liquidated the 2008-12 condo glut, the green shoots of a number of planned projects and even construction cranes have reappeared in some parts of Florida. Pre-construction is attractive to buyers and investors who are usually getting in at the lowest possible price, the price is locked in, and there will be a couple years of appreciation before the building is complete. Developers frequently increase prices as much as 25 percent between the project's launch and completion.
The condo business in Miami has been strong for several years with over 250 new projects either under construction or on the drawing board. New York City developers and their clients have been especially active in the Miami Beach condo market pushing prices higher. According to the New York Times, prices along the beach have increased 11.5 percent in the last 18 months while inventory has dropped by over 60 percent. According to the real estate website, Trulia, the average listing price for a Miami Beach property is now over $1.6 million.
While Miami Beach has almost fully recovered from the bad days with busy real estate agents and prices close to their 2007 peak, the rest of the state has been quiet with virtually no new construction. Nervous developers who managed to survive the condo crash waited to test the recovery waters until last year when multiple construction plans were launched in Naples and Fort Lauderdale. Smaller boutique buildings are planned or already under construction in Juno Beach, Longboat Key, New Smyrna Beach, Palm Beach Gardens and Singer Island. Most of the activity is concentrated near the ocean with projects starting around $500,000 for something small up to many millions of dollars for the largest Florida luxury condos. It looked like old times again in December when a new development by Minto Communities in Lauderdale-by-the-Sea launched sales for their new project of 51 condos. Five people camped out two days early to be first in line to buy one.
Pre-construction mania was a big part of the problem in the lead up to the Florida condo crash days when buyers waited in line, sometimes for days, to buy a condo they planned on flipping as prices increased when the building rose closer to completion. But the good times didn't last and prices stopped increasing in 2007 and then went into freefall. Buyers walked away in droves from their 10 percent deposits. Buildings that had sold out in just a few hours were now almost empty and new buyers were hard to find. Developers went bankrupt and banks were left holding the empty towers. To prevent a repeat scenario, today's developers are requiring 30 to 60 percent deposits before they start construction.
Even with the higher deposit requirements, it appears flippers have gone back to work. According to Peter Zalewski of Condo Vultures, over 60 units at the new Brickell Heights condo tower in Miami are already for sale by early buyers looking to make a profit at prices about 25 percent higher than what they paid. Brickell Heights sold out 98 percent of its inventory within 90 days of the project's launch.
Visit TopTenRealEstateDeals.com for a look at the new Florida pre-construction condos.