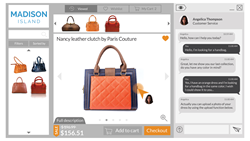 We're extremely excited to be working with oct8ne...to help our clients increase their sales, and provide a better, more memorable shopping experience," said Robert Rand, VP of Operations at Rand Internet Marketing
Menlo Park, CA (PRWEB) March 01, 2016
oct8ne, a live sales and customer engagement solution for eCommerce stores recently partnered with Rand Internet Marketing, one of South Florida's premiere website design, development, and Internet marketing firms. The partnership was formed in order to seamlessly bring eCommerce websites a personalized, guided buying experience for online shoppers connecting by phone, live chat, email or social media channels.
Rand Internet Marketing is recognized as an award-winning firm in the internet marketing industry for providing high-quality services and solutions for their clients. An array of services are offered by Rand, including responsive website design and development on the Wordpress and Magento eCommerce platforms and much more. Since Rand works closely with clients to provide consultative services, they naturally discuss strategy regarding how to better optimize the website and sales. Because oct8ne's sales suite provides a guided buying experience for eCommerce shoppers that provides significant increases in average order values and conversion rates, the partnership was a logical move to be able to provide the best comprehensive services to eCommerce companies.
"One of the biggest challenges in the eCommerce world is the lack of personal support for shoppers as they browse a store. Oct8ne provides a solution that goes above and beyond traditional live chat technology, and allows store representatives to act like personal shoppers for the digital world. We're extremely excited to be working with oct8ne to help promote their system in order to help our clients increase their sales, and provide a better, more memorable shopping experience," said Robert Rand, Vice President of Operations at Rand Internet Marketing.
Now, current and future clients of Rand Internet Marketing can easily have the oct8ne system integrated within their site. Companies will be equipped with powerful tools to provide live purchase assistance, personalized product recommendations and cross-sell & upsell opportunities at critical moments when customers abandon the buying process. The unique guided buying experience can be used to assist customers connecting through 1-800, chat, social media and mobile to increase conversion and lower cart abandonment. Detailed analytics about sales interactions will also be provided so sales associate's strategies can be shaped by useful intelligence, and operations and the customer experience are optimized. This information coupled with Rand's ongoing consulting expertise magnifies the benefits clients will experience.
"We are happy to have identified Rand Marketing as a partner. oct8ne's live sales and customer engagement offerings will be a great complement to the design and marketing services they already provide so well to their customers." Tim Kunihiro, CEO, oct8ne.
About oct8ne:
oct8ne is a privately held company based in Menlo Park, CA. It's real-time, interactive sales suite turns customer engagement into a new sales channel, allowing eCommerce sites to significantly increase conversion rates and average order values. Learn more and request a live demo at http://www.oct8ne.com
About Rand Internet Marketing
A division of Rand Business Services based out of Fort Lauderdale, FL, Rand Internet Marketing's team offers a full range of web design and marketing services, including responsive website creation, web development, search engine marketing (SEM), social media marketing, brand / logo design and development, graphic designing and more. Rand's specialty is primarily in responsive web design and development, including in the WordPress and Magento e-commerce platforms, and pay per click (PPC) marketing. In addition, Rand offers video production / marketing, full-color printing press services, business review and reputation management, product photography, merchant services and a host of other professional business services. For more information about Rand or the oct8ne partnership, call 888.707.RAND (888.707.7263) or request a consultation online at http://www.randmarketing.com/request-consultation .