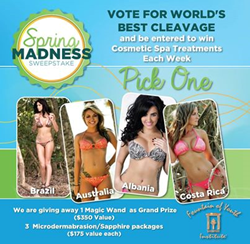 Palm Harbor, FL (PRWEB) March 31, 2014
Having been in the cosmetic surgery business for over two decades, Florida practice Fountain of Youth Institute is no stranger to web promotions. For proof, look no further than its latest sweepstakes, which will seek to highlight participants with "the best cleavage in the world," running now through April 12 via the practice's Facebook page.
The contest is simple. On Facebook, a number of Fountain of Youth's patients from around the world—as operated on by the practice's medical director, Dr. C. Randall Harrell—will be featured in photos. It's up to Fountain of Youth's Facebook fans to vote on these patients based on who, in fact, has the best cleavage in the world. Patients from Brazil, Australia, Albania and Costa Rica will be featured.
The grand prize winner, one lucky Facebook fan, will be chosen in mid-April and will receive a collagen spa package known as the Magic Wand (a $350 value), while smaller prizes (including three microdermabrasion sapphire packages valued at $175 each) will be given away every week of the contest to other fans.
Previously, Fountain of Youth held a Valentine's Day sale in February which offered 30% off all procedures.
Dr. Harrell says he hopes this latest contest will be a fun experience that will ultimately bring more brand awareness to the practice. Ideally, he says, Fountain of Youth will be known as a world renowned plastic surgery center at the end of the sweepstakes. The practice has built a reputation on caring for its patients since it first opened its doors in 1992. "The medical staff at the Fountain of Youth Institute demonstrates a personal commitment to your comfort and care, assuring you the attention you expect and deserve to make your experience a memorable one at the Fountain of Youth," reads a statement on the company's website.
In addition to breast augmentation surgery, Fountain of Youth offers procedures like tummy tucks, face lifts and more. For new mothers, Fountain of Youth can provide what's called a "mommy makeover," or a combination of all three procedures.
Fountain of Youth Institute is located in Palm Harbor, FL at 34156 US Highway 19 N. For more information about the Best Cleavage in the World Sweepstakes or the services they offer, call (727) 781-0818 or visit online at fountainofyouth.com.