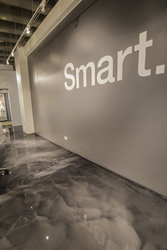 "By offering both our Approved Contractor network and the innovative facility self-install program, Florock can now provide outstanding floor coating value to more end user clients than ever before."
CHICAGO (PRWEB) April 30, 2019
Florock® Polymer Flooring, manufacturer of professional-grade concrete floor coating systems, headquartered in Chicago since 1952, introduces new Club Florock, an innovative program for industrial, commercial and institutional facilities desirous of installing their own flooring. While the great majority of end users will continue to utilize the company's network of highly skilled Approved Contractors to maintain their floors, some facilities with experienced in-house maintenance personnel have expressed interest in applying the flooring systems themselves, especially when the areas to be coated are smaller in size. Until now, many products marketed for this purpose were either of lesser quality or else failed to provide sufficient instruction and support. New Club Florock offers facilities the opportunity to view professionally-produced, step-by-step demonstration videos, as well as access detailed instruction manuals and other resources, before taking on their project. Armed with a better understanding of what a successful industrial floor coating installation actually entails, a Plant or Maintenance Manager can then make a more informed decision in choosing either the new facility self-install option or an Approved Florock Contractor.
The Club Florock product line, carefully curated for facility in-house use, is of the same high performance, forklift-rated quality as all Florock floor coating systems. Suitable for industrial manufacturing and food processing operations, as well as aviation, healthcare, education, hospitality, retail and many other locations, Club Florock facility self-install flooring covers the gamut. Six flooring systems, ranging from highly decorative to utilitarian in appearance, are on offer: Solid-colored FloroPoxy Epoxy and FloroShop Epoxy-Aggregate flooring, available in thirteen standard colors, furnish outstanding protection in moderate to heavy traffic; FloroChip Epoxy-Flake, FloroQuartz Epoxy-Colored Quartz, and FloroTallic Epoxy-Metallic flooring systems, with their broad range of designer looks, provide excellent performance and durability in busy environments. FloroCrete SLX, a thermal-shock resistant, moisture tolerant urethane mortar floor designed for use in commercial kitchens and wet-processing areas, is also part of the Club Florock line. Additional options include customizable slip-resistance and glossy or satin topcoats.
Florock will continue to regularly recommend professional contractor installation, especially for larger flooring projects and those requiring concrete slab refurbishment, joint treatment or extensive surface repair. "However, for facilities accustomed to having their in-house crews or general maintenance provider do the work, Club Florock offers real benefits," said Peter Kirton, Vice President. "It uniquely enables managers to quickly educate themselves about proper floor coating installation and at the same time gives them more options. By offering both our Approved Contractor network and the innovative facility self-install program, Florock can now provide outstanding floor coating value to more end user clients than ever before."
Florock professionals are available throughout the Americas, the United Kingdom, and other locations around the globe. See our website or call +1-800-FLOROCK (356-7625) to connect with a consultant near you.
ABOUT FLOROCK, MANUFACTURED IN THE U.S.A. -- Florock has been a leader in the manufacture, research and development, and installation of solutions-oriented concrete floor coatings and toppings since 1952. Headquartered in Chicago, Illinois, with professionals and partners throughout the Americas and the UK, Florock Polymer Flooring is now one the most complete resinous flooring lines available, offering full support from design through construction -- and beyond. Please visit florock.net for more information.