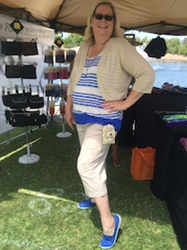 Lil Flower Cellphone Purse in so many gorgeous colors to choose from, what is a girl to do!
Pilladelphia, PA (PRWEB) July 29, 2014
Everything's coming up roses for fans of Nifty-Nifty.com's As Seen on TV products, as their most adorable cell phone holder to date, the Lil Flower Cellphone Purse, is now available in its original bouquet of colors.
"Our Lil Flower Cellphone Purse continues to be such a popular item among consumers, that we're having a difficult time keeping all color varieties in stock," states Nifty-Nifty.com's co-founder, Wendy Miller. "However," Miller continues, "we are delighted to say that we have recently replenished the entire line to include; Blue, Turquoise, Pink, Purple, Pewter, Bronze, Burned Orange, Ivory, Black, and Black with White accents."
View all the Lil Flower Cellphone Holder hues, here:
*http://www.nifty-nifty.com/lil-flower-cellphone-holder-best-cross-body-cell-phone-purse/
The Lil Flower cross body iPhone purse, which measures 4 inches across and 6 inches deep, is the small bag with big style. Constructed of tough faux leather, and boasting a signature rose design, this versatile little snap-close purse (which can also be worn as a wristlet, or hip bag) is durable, adorable, and perfectly portable.
Designed to fit all one's small essentials, Lil Flower Cellphone Purse is the best way to carry one's cell phone, keys, cash, and more, in a fantastically flattering manner. The only problem is, with so many splendid Lil Flower colors from which to choose, it's nearly impossible to pick just one!
About Nifty-Nifty.com
Nifty-Nifty.com is the world's leading online retailer of innovative, nifty products. The company specializes in online retailing of products such as the Specs In A Sec Magnetic Eyeglass Holders, Phubby, Cell-Fie HipBand Cellphone Holder, Biker Purses, Cross Body Cell Phone Purses, and other innovative online products at the best prices with no charge shipping in the USA and Canada.
http://www.Nifty-Nifty.com 
Tel: 858-248-2302