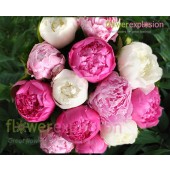 Wilmington, DE (PRWEB) July 07, 2013
Flower Explosion has announced that customers will be able to order wedding peonies starting the month of July. LAD Solutions has been hired to handle the promotion in order to let customers know about the new options for flower varieties available to them via Flowerexplosion.com.
Flower Explosion has updated its logistics procedures in order to be able to offer peonies nearly all-year-round. Peonies are a seasonal flower and can be difficult to obtain but Flowerexplosion.com is trying to eliminate this worry for brides and is guaranteeing its services to be able to deliver peony wedding bouquets throughout the year.
The colors and varieties available range from white, light pink, hot pink to mix color peonies. Depending on the time of the year, the peonies are imported from different parts of the world and the available colors change also. Flowerexplosion.com has provided information for availability based on the time of year that the wedding bouquets are required. Customers that visit their website will receive information for winter, spring, summer and fall months with specific information as to where their peonies will come from during each season and the varieties that will be available.
Flower Explosion has not indicated whether the additional logistics requirements for delivering peonies affect their shipping promotions or other specialty offers. Flowerexplosion.com advises customers to call the company directly to discuss their needs if they have questions about the delivery options available for peonies and especially if the order required will be a high volume order.
Flowerexplosion.com works with farms around the world to deliver peonies and the peonies are imported from such places as Chile, Israel, Alaska, and Holland. For customers that want to order these flowers for weddings, Flowerexplosion.com claims that it is more than capable of handling such jobs as to date the company has serviced more than 2,000 wedding ceremonies with flower arrangements.
Right now the company is offering special discount pricing on peonies on their website, so customers are encouraged to take advantage of these new options as soon as possible. The company has not specified how long the promotions will last or if the availability of certain colors of peonies will change as the months progress. However the company has specified on their website that if peonies are not available substitutions can be made with Luxury English Roses which look virtually the same.
About Flower Explosion LLC: Flower Explosion LLC supplies fresh flowers to individuals, companies and for events around the world. The company is based in Delaware, United States and operates via their website located at Flowerexplosion.com. The company works with farms in many different locations including the Netherlands, Ecuador, Costa Rica, the United States and more to deliver nearly one hundred varieties of flowers to its customers. For more information about their services, visit their website or call them at 866-639-0277.