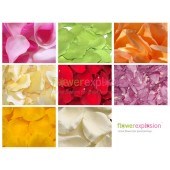 Cut-to-order exclusive blooms
Wilmington, DE (PRWEB) August 24, 2013
Flowerexplosion.com has announced that it is now offering a special sale on rose petals with the price starting at just $69 for 4 bags of petals. The company has decided to use LAD Solutions in order to announce the news so that more customers will find out about the promotion and place orders.
Flower Explosion offers rose petals in a variety of colors including red, white, pink, orange, lavender, peach and more. The fresh rose petals are intended to work as a festive addition to any event or romantic evening, and Flower Explosion even puts the rose petals in appropriate bag sizes so that the customer can receive enough rose petals to cover a standard size room area. According to the company, the rose petals are also picked at the very last minute before shipping to ensure their freshness and quality. In addition, Flower Explosion is extending their free FedEx shipping options to the rose petal promotion so that customers can receive their orders without having to pay more for shipping.
These bulk fresh rose petals come from Flower Explosion's South American flower farms and are available for a variety of occasions. The site also lists recommended sites for various event spaces with 13 bags being the recommended number of bags for an area of 135 square feet. The company recommends using 26 bags of rose petals to cover a wedding chapel.
Flower Explosion has not specified on their website how the promotions will work for customers located outside of the United States or customers looking to purchase volume orders. Therefore, the company has requested that customers interested in placing volume orders or have specific shipping requirements call the company in order to find out how the promotions will work for them in terms of the shipping arrangements.
The company says, however, that they will be offering additional discounts on top of the existing promotion for customers that will be placing bulk orders for rose petals. However, in order to find out what these special offers are, customers will need to call in and speak directly with a company representative to find out about exact pricing and the quantities available for purchase.
Flower Explosion has also not specified how long the promotion will last so customers are encouraged to place orders for their wedding and special occasion needs right away. This will also ensure that the customer has access to the quantity of rose petals needed for an event in the required colors as quantities are limited especially when it comes to certain colors that may not be as popular with customers as others.
About Flower Explosion LLC: Flower Explosion LLC is a major supplier of flowers directly from their farms located all over the world. The company sells over 100 different flower varieties and the flowers ship fresh from their farms located in Costa Rica, Holland, Ecuador, and Colombia. For some additional information about the company, visit their website at Flowerexplosion.com.