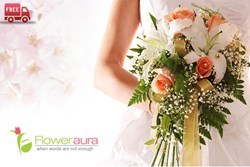 We of course had a dream. We wanted to win hearts with flowers and make people smile.
(PRWEB) December 12, 2013
FlowerAura, one of the leading e-florists in India, has come a long way ever since its inception in 2010. This premier e-gifting retailer, now in the third year, has expanded its reach and now provides flower delivery across the country in over 150 cities. From a startup catering mainly to customers in Delhi, the company now boasts a massive infrastructure that facilitates in smooth delivery mechanism and product consistency, ensuring customer satisfaction across India. Add to that a series of other improvements in product extension and delivery mode like midnight delivery system to ensure FlowerAura is making an inroad into the market which is otherwise plagued by infrastructural hazards.
Terming this amazing story as "Team Work", Shrey Sehgal, founder at FlowerAura could not hold back his excitement. He further added, "I of course had a dream. I wanted to win hearts with flowers and make people smile. And I am happy we have been able to do that in such a short span of time. We were just a mere startup trying to make our mark just a few years back. Now things have changed. We have succeeded in spreading our reach across several Indian cities. Looking back, it was not easy. But I would give the credit to my team of dedicated professionals for relentless passion and enthusiasm towards meeting targets and deadlines. At the end it is always a team work, you see."
Having started out as a firm dealing solely with floral deliveries, FlowerAura, over the years has made a lot of essential addition to its delivery services. Besides flower delivery, the startup now provides delivery services for cakes, chocolates and teddy bears. These were a natural extension of services for FlowerAura because people always look for cakes or chocolates along with flowers as gifts for their loved ones.
"Introducing chocolates, cakes and gifts to our service line is a no-brainier. The combination of flowers, chocolates and cakes is most sought-after on anniversaries and birthdays. Though customers were extremely happy with our flower delivery services, but they bought cakes and gifts from elsewhere. After an extensive analysis and research, we decided to expand our services, and added cake delivery to our kitty," added Himanshu Chawla, co founder, FlowerAura.
This service is now very popular across India in over 150 cities. The customer favorite, free shipping (not applicable for midnight deliveries), is also an essential feature of this service. Having served to over 10,000 clients in the last three years, with attractive Holiday Discounts and Diverse Product Range, FlowerAura now aims at being the number one floral delivery firm in India.