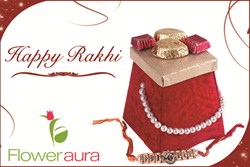 These days almost everyone loves to pamper their near and dears with flowers and gifts for any occasion
(PRWEB) August 15, 2013
Rakshabandhan is a traditional Indian festival that celebrates the eternal love bond between a brother and a sister. Considered among significant and popular revels in India, it is a sheer delight for all. A brother and sister share a unique connection that is a wholesome concoction of friendship, companionship, understanding mate and partner in crime.
To add to the festivities, FlowerAura took a step ahead and launched its premium range of Rakshabandhan Flowers for all the enthusiasts brothers and sisters who love to rejoice this day with added passion. On display, are some magnificent and unique flower arrangements that can convey the exact emotions of sibling love.
Himanshu Chawla, co-founder, FlowerAura gave an insight on this recent announcement. He said, "As we move towards the modern versions of Indian Traditional Festivals where youth has found a new meaning to expressing their affection for their loved ones, Rakshabandhan is not an exception. These days almost everyone loves to pamper their near and dears with flowers and gifts for any occasion. One of them is Rakshabandhan. Keeping the thought in mind, we decided to launch this finest range of flowers and gifts that compliments the day appropriately. Brothers and sisters will find it truly versatile for the upcoming festival, when they can choose meaningful deliveries for their siblings who are away. We have thoughtfully chosen the right blooms to create these outstanding Rakshabandhan flower arrangements. We have clubbed some of them with gifts to make combo offers, available in absolutely affordable prices."
"Each flower carries a distinct meaning. Flowers like Gerberas, lilies, carnations, sunflowers and orchids express sibling bonding. All these flowers represent the emotions of pure and innocent love. They also bring cheerfulness to the receiver. Hence we categorically advise our designers to use these flowers extensively while crafting the Rakshabandhan Bouquets so that our customers can choose any bunch without a second thought. We are also offering made-to-order flower bunches for Rakshabandhan, prepared instantly according to the client's choice. There are endless choices on the palate that one can choose from, to make this festival extraordinary for their treasured ones," stated Shrey Sehgal, Founder, FlowerAura.
With same day deliveries prearranged for Rakshabandhan, FlowerAura made another mark, adding to existing credentials including a wide range of products, flawless customer service and meticulous deliveries PAN India.