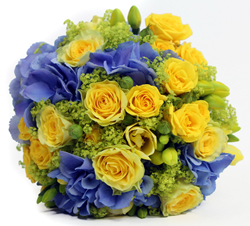 (PRWEB UK) 30 May 2014
Summer is truly upon us, as flower delivery shops open up to display this season's brightest, most beautiful floral arrangements. Top London florist and online flower delivery company Flowers24Hours has the best selection of blossoms and bouquets—and online gifts—for fresh flower delivery within London and the UK!
Summer is different for everyone. Though for many people summer is a time for joy, brighter days and fewer layers, and the chance to be more carefree. It is an opportunity to spend more time outside with the kids and pets, the partners and friends.
Here, at Flowers24Hours flower delivery company based in the heart of London, stylists think of flowers. And as much as fresh flowers, plants and luxury arrangements are seasonal, they are also summer inspired. Flowers24hours's florists cultivate summer blossoms and design exclusive bouquets for same day flower delivery in London and next day flower delivery anywhere else in the UK. Luxury London flowers and gifts can just be ordered online—it's that easy and that convenient.
Some of Flowers24hours's favorite summer flower arrangements use ranunculus, which are like delicate, miniature roses that come in wonderfully warm colours like orange, yellow and red, as well as more playful pinks and purples.
The peony is a flower of early summer. It's a national emblem of China, widely used in art, and signifies riches and honour. Hopefully they bring Londoners luck and some extra money to spend on their summer holiday. These adorable, full little globes carry a sweet scent, and come in solid white, deep red and magenta.
Other blossoms that florists at flower delivery company Flowers24hours love are gladiolus (or "gladdies"), flamboyantly large with reddish or light purple flowers for online deliveries; and hydrangea, with soft, cloud-petal formations or bunches like pom-poms. Hydrangea varieties can be white or green, as well as pink, blue and lilac.
Last but not least in Flowers24hours's summer flower lineup are gerberas! Some of the most popular gerberas daisy arrangements in the flower delivery shop in London are Sunshine, Fresh as a Daisy, and Sunset Tints.
In fact, for many people summer evokes the image of sunset: glowing orange, yellow and florid-pink streaked skies. Nights that are not just warm and clear, but made perfect with a bottle of wine (or champagne!) to share with loving person.
London florist and online flower delivery shop Flowers24Hours delivers a number of gourmet and beautifully packaged gift baskets, perfect for birthdays or celebrating a new baby, to say thanks or get well. Delightful mixtures of goodies, like the Indulgence Basket or Temptation, are great to send on anniversaries or celebrate a wedding.
Flowers24hours's baskets combine luxury flowers with fresh fruits, gourmet chocolates and fine wines. Even if it's not Mothers day, mothers will love some of luxury London florist's bath and spa essentials, like the Fragrance Basket or Green Tea Bath Basket. And just like sending flowers, gift delivery by Flowers24Hours is convenient, cheap and always on time.
With Father's Day around the corner the florist has a wide range of Father's Day flower gifts. A wooden chess set or seasonal plant, perfect for the home or office, is a great gift for men. And Flowers24hours's hampers, with selections of foods and spirits both sweet and savoury, appeal to all tastes—so she and him can enjoy them.