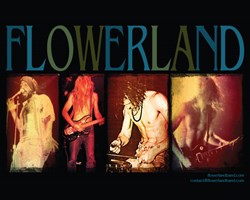 Flowerland sound straight outta Sub Pop, but it's not all strictly about the 90s. A jettison of blues rock tones and splices of Led Zeppelin between the scenes of Soundgarden and Pearl Jam make for grooves bordering on the psychedelic. - Copasetix, London
New Haven, CT (PRWEB) November 22, 2013
If you find yourself waxing nostalgic for the days of grunge, Flowerland has returned with The Caffeine Disk EP, 6 classic Flowerland songs that were recorded in 1992/1993. Flowerland formed in New Haven, CT in November 1991, shortly after the original four members met at a Nirvana show at the underground rock club, The Moon. With a sound somewhere between Led Zeppelin and Soundgarden, Flowerland quickly became one of the premiere bands in the east coast indie music scene. Flowerland released three EPs and one 7" on Caffeine Disk Records and went on to self-release four albums that were supported with national college radio play, touring, reviews from all over the world, and a DIY ethic.
"Buzzsaw guitars, strong vocals and clean production take these tunes over the top. Seek and find." - Magnet Magazine, Philadelphia, PA
Flowerland's back catalogue is being reissued by Gypsygarden Records, featuring "Crazy Horse," "glass i," "(Jim Brown's) Military Country," "Low," "Kill Alice (Slowly)," and "Flow." The tracks are re-mixed by indie rock producer John Agnello (Sonic Youth, Dinosaur Jr.) and mastered by Alan Douches (Bad Brains, Clutch). Flowerland is scheduled to re-mix 9 additional songs with John Angello for a full length release in 2014.
Flowerland is Roger Guimond on vocals, Jon Lichatz on drums, Jef St. George on bass, and Steve Christofor on guitar. Twenty years after their initial recording, the songs on The Caffeine Disk EP have remained timeless and Roger, Jon, Jef, and Steve continue to rock a whole new generation of music fans.
You can learn more about Flowerland at http://www.flowerlandband.com
For more information, images, or to arrange for an interview please contact Melissa Zeigler at Powderfinger Promotions: melissa(at)powderfingerpromo(dot)com.
Powderfinger Promotions–Independent Radio Promotion and Publicity. Since being founded in October 1994, Powderfinger has come to be regarded as a top indie radio promotion and publicity firm with ties across North America.