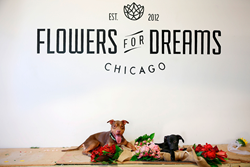 "Chicago has really taken to our very different flowers-for-good model."
Chicago, Illinois (PRWEB) December 29, 2015
Besides selling hand-curated, local flowers and offering flower delivery in Chicago, IL, Flowers For Dreams is an organization proudly giving back a quarter of their profits to local charities. Below are a few of the charities that have deeply affected, inspired, and educated the team at Flowers For Dreams. While these nonprofits receive a check for an amount ranging from $2,500-$10,000 from Flowers For Dreams, it's safe to say the fulfillment, friendship and memories Flowers For Dreams team members received from them are equally as, if not more, valuable.
Learn more about all 12 of the organizations they partnered with in each of the months of 2015 on their website or if you are a local nonprofit, apply to become a partner in 2016.
Moneythink
Kristen Faiferlick of Moneythink said that the Flowers For Dreams donation in 2015 "helped build out new features in [their] award-winning mobile app" and assisted in funding the most widely attended Summer Leadership Institute they've ever hosted. Here, the organization brought in college volunteers to "train, equip, and inspire them to have a bigger impact in the 2015-2016 school year" to educate underserved youth on the ways to save and spend wisely. This is an organization taking one topic that has fallen so low on the totem pole of education that it needs an intervention-like, fresh approach to breaking cycles of reckless spending in the next generation.
Chicago Lighthouse
At The Chicago Lighthouse, located in Illinois Medical District, Flowers For Dreams donations were used to fund what their Creative Director Lisa Birmingham explained as sending teacher-therapists to "provide one-on-one home therapy visits to children who are blind or visually impaired in [a] Birth to Three Program." This type of foundation for new families and mothers might be the most authentic way, in these situations, to help shape the development of young families and provide the support they need.
Pilsen's Working Bikes
Julie Nicewander from Pilsen's Working Bikes, explained that the funds secured through partnering with Flowers For Dreams enabled tens of "local underserved Chicagoans are given a bike, a helmet and a new lock" which, she reminds, "allows individuals to get to and from work, along with greater access to healthcare." Not only does this organization help with adults, but young children as well. Several of these first bicycles, first memories of pedaling the city block and experiencing that freedom and speed, are thanks to the mission of Working Bikes. When you look at the photos of kids who received bikes this winter as part of their holiday giveaway, you melt. Nicewander explained how "these funds have been a huge help in ensuring that we are able to provide bikes to all of those recipients." Bikes mean a lot to us as well since our flower delivery is all done by bike around Chicago.
Freshwater Future
Becca Turner from Freshwater Future mentioned that the funds donated by Flowers For Dreams during the month of September benefitted the recipient of an inside grant, Clare Tallon Ruen. Clare echoed this in her statement, saying that her work is meant to bring Great Lakes education into the classroom in Evanston and Chicago. Through her beaming smile she told Flowers For Dreams staff that grants such as this allow her to actually "bring the kids outside and to the beach" and "learn about the importance of stewardship in our Great Lakes region." Clare and the volunteers at Freshwater Future make Chicagoans look at their very own Lake Michigan with a more protective set of eyes.
Namaste Charter School
Kathryn Nelson, Development Manager of the Namaste Charter School in Southwest's McKinley park area, remarked that donations helped to send their students to the top-rated high schools of the area. This might seem like an overstatement but Namaste Charter School relies on donations to continue the immense strides they've made in transforming an otherwise standard brick building into what feels like a magical, Willy Wonka-esque bubble where education feels so tangible. Attainable. Exciting. Yoga, meditation, family style meals, and organic foods being implemented into this Southwest Side school are just to name a few.
One Tail At A Time
The February charity was One Tail at A Time, a dog rescue shelter near Bucktown. Executive Director, Heather Owen, said the recent donation went a "long way" in 2015 in the launching of their new adoption center, allowing them to take in more dogs in need. The 'long way' she references trickled all the way to a customer named Michelle Janke, who adopted her dog Barney from One Tail at a Time this year. In her letter to Flowers for Dreams, she writes: "we are so in love--we never would have seen him if it hadn't been for your charity program!" She sent this alongside a photograph of the sleepy Barney, paws taking up half of Janke's arm chair.
This year's charities also included Boys and Girls Club of Chicago, Chicago Gateway Green, The Lynn Sage Foundation, Juvenile Diabetes Research Foundation, and Chicago Coalition for the Homeless.
In his year reflection, Dyme phrases it best in his gratitude to Chicago, and the ways our city has "really taken to our very different flowers-for-good model." For the past three years, he and Co-Founder Joseph Dickstein have carried out their vision of what they refer to as, "the tangible impact of our donations, right here in our own community."
Both Steven and Joseph would agree that it's sometimes unfathomable to know that their flower-based mission was the assisting wind behind some of these Chicago nonprofits. Hearing "big numbers" like they donated nearly $150,000 since their 2012 beginning and it almost doesn't register.
Flowers For Dreams would like to take a moment at the end of 2015 to thank their nonprofit partners and customers. Without the support of either, they wouldn't be able to fulfill their mission to give back to their community and look forward to 2016.