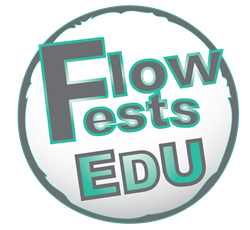 Basically, I see two communities that would provide each other a great benefit, and I'm creating a bridge for them to connect and serve each other. - Casandra Tanenbaum, Director of Flow Fests
Lake Worth, FL (PRWEB) June 23, 2017
Flow Fests are free, public, urban arts events offering participants the opportunity to study movement arts with instructors from across the globe.
Flow Fests' goal is to make Flow accessible to the public masses, especially due to its usefulness for learning. Its new educational iteration, Flow Fests EDU, is a project to transform K-12 education from the inside out, using Flow Arts as a tool to enrich the educational experience and inspire lifelong learning through play.
To bring this alternative educational project to fruition, Flow Fests has launched a crowdfunding campaign. Flow Fests is working with educators and artists to build an entire curriculum of lessons for grades Kindergarten through 12. Campaign funds will go directly to supporting the creation of this compendium of lessons, and paves the way for Flow Artists to contribute to the educational landscape and academic conversation around learning STEM-specific concepts. STEM, aka Science, Technology, Engineering and Math, becomes STEAM with the addition of Arts Integration, a critical aspect of arts instruction that can bring all the pieces together for students through the particular intrinsic motivation that arts often provide. Both have become buzz words in the domain of education, and schools are frequently on the lookout for programming that utilize Math and Science concepts in engaging ways.
"Basically, I see two communities that would provide each other a great benefit, and I'm creating a bridge for them to connect and serve each other: schools need support to incorporate innovation in ways that make life easier for teachers to do the best job they can in evoking passion for learning and incorporating practices for developing critical thinking. Flow Artists LIVE their passion for learning, and many are already sharing the gifts of flow arts with their local communities. It's time for them to be equipped and empowered to support teachers and students in all school and educational settings," says Casandra Tanenbaum, Director of Flow Fests.
View the crowdfunding campaign and reward tiers at: https://fundraising.fracturedatlas.org/flow-fests/campaigns/419.
Casandra Tanenbaum is a professionally certified teacher in the State of Florida, a homeschool consultant, and educational alternatives scholar, whose project "Postcards from the Education Revolution" toured briefly throughout the state of Florida in 2009 and 2010. She completed a masters degree in Contemplative Education from Naropa University, and co-authored the popular Hoola-Fit training, which is approved by the American Council on Exercise for continuing education for group fitness instructors and personal trainers. Casandra is assembling the team of flow arts experts and teachers for Flow Fests EDU.
Flow Fests intends to increase public accessibility of circus arts and dance, to provide opportunities for artists in a variety of movement art/dance disciplines to engage in professional development and higher level training, and to build community nationwide among dancers and 'flow' artists (or object manipulation artists).
Flow arts are forms of movement and dance that utilize props to enter a state of flow, described by psychologist Mihaly Csikszentmihalyi as an exhilarating transcendent way of being in which effortless control and peak skill seem to erase a sense of time. Flow arts props include poi, staff and hoops; dancers manipulate props to add to the expressive qualities of their dance. According to Flow Fests, Flow is the optimal psychological state of being where one is connected, engaged, aware, awake, alive, creative, precise, balanced, inspired, limitless, responsive and focused.
Founded in 2011 Flow Fests now entail four major yearly events located nationwide in the cities of Austin, Seattle, Chicago, and Lake Worth. The upcoming chapters this year are the July Northwest event in Seattle, the September MidWest event in Chicago, and the main November event: Florida Flow Fest.
To donate to the crowdfunding campaign, go to: https://fundraising.fracturedatlas.org/flow-fests/campaigns/419.
About Flow Fests:
Flow Fests are free, public, urban arts events offering participants the opportunity to study movement arts with instructors from across the globe. These multi-day workshop festivals bring the fun and learning of flow arts, circus arts, yoga and dance into urban parks. Flow Fests invite people of all ages to create and celebrate performance art, health and wellness in community. Flow Fests take place in cities big and small across the US. Flow Fests is a sponsored project of Fractured Atlas, a non­profit arts service organization.