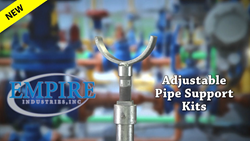 ... Flow Reps is combining the best of digital tools ... with personal one-on-one selling. The results for us have been fantastic. Craig Bramley, Empire VP of Sales & Marketing
Charlotte, NC (PRWEB) June 07, 2016
In 1956, Paul Stack Company was introduced to the marketplace as a Rep Agency for Pipe-Valve-Fitting and Plumbing Manufacturers, selling distributors in NC & SC, and calling on Consulting and Process Engineers for specification work.
Sixty (60) years later, the same agency is re-introducing itself with a new name, Flow Reps, and a new strategy called Power-of-1 Marketing. Today, the first of the ten digital marketing tools, is being demonstrated:
1-Minute Instructional Videos
According to Paul Stack Jr, "Several years ago, it became clear that the conventional method of marketing and selling could no longer ... affordably ...
--Broadcast manufacturers' messages to the entire market,
--Educate those who wanted to learn more, and then,
--Connect those interested back to our distributor-partners.
The only way to accomplish this was to develop a series of digital marketing tools."
One of the manufacturers represented by Flow Reps is Empire Industries. Empire was started in the early 1940s. Today, Empire offers a full-line of pipe hangers, supports, and strut accessories, both as a domestic manufacturer and master importer. One of the tools in the Power-of-1 Marketing toolkit is 1-minute Instructional Videos; these videos are created in the Flow Reps state-of-the-art 1,000 square foot broadcast studio.
Craig Bramley is the VP of Sales & Marketing at Empire, "What Flow Reps is doing today is leading the way into the future for manufacturer rep agencies. Not only have their Power-of-1 Marketing tools benefited our marketing in the Carolinas, but what Flow Reps is pioneering for us will work in all of our sales territories. The best part about this approach is that Flow Reps is combining the best of digital tools -- video, streaming, cloud, and social media technologies -- with personal one-on-one selling. The results for us have been fantastic."
Flow Reps created a 1-minute video which introduced Empire's new Adjustable Pipe Support Kits. The video has been used in a variety of ways, from being posted on distributor websites, to being loaded on Ipads belonging to distributor salespeople, to being sent as a link in emails. To see an example of this new product video, go to:
http://www.FlowReps.com/Empire/home.html
To learn about the 10 Digital Tools, and how Power-of-1 Marketing is revolutionizing the sales results for Flow Reps, watch the video on the Flow Reps home page:
http://www.FlowReps.com